HISTORY CORNER: GERONIMO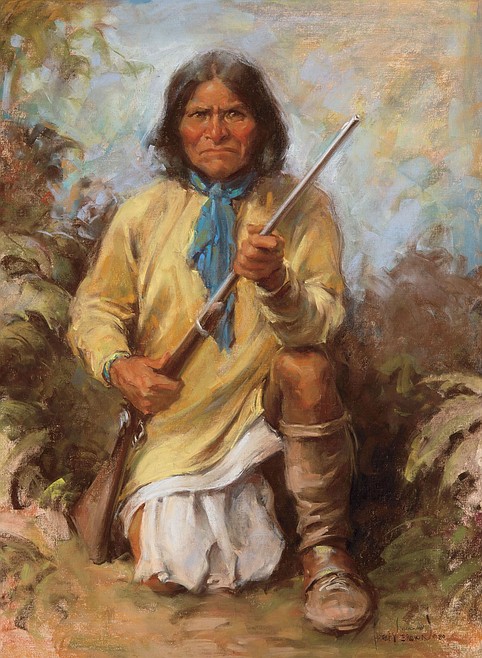 Painting of Geronimo by Harley Brown, Phoenix Art Museum.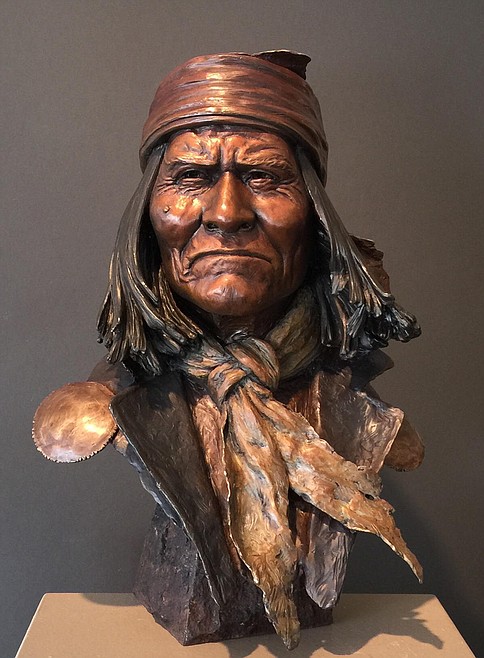 Sculpture of Geronimo by Navajo artist and sculptor Ed Natiya Saxon.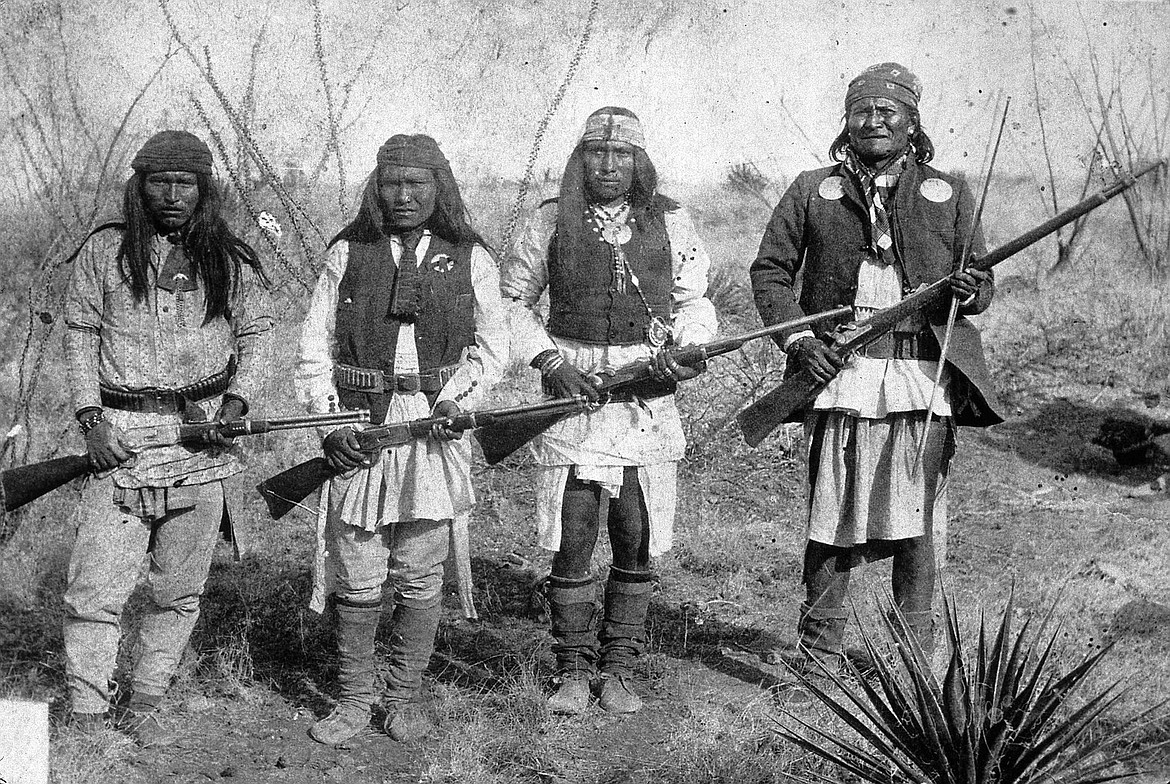 Apache leader Geronimo on right, Yanozha (Geronimo's brother-in-law), Chappo (Geronimo's son by his second wife), and Fun (Yanozha's half-brother) (1886).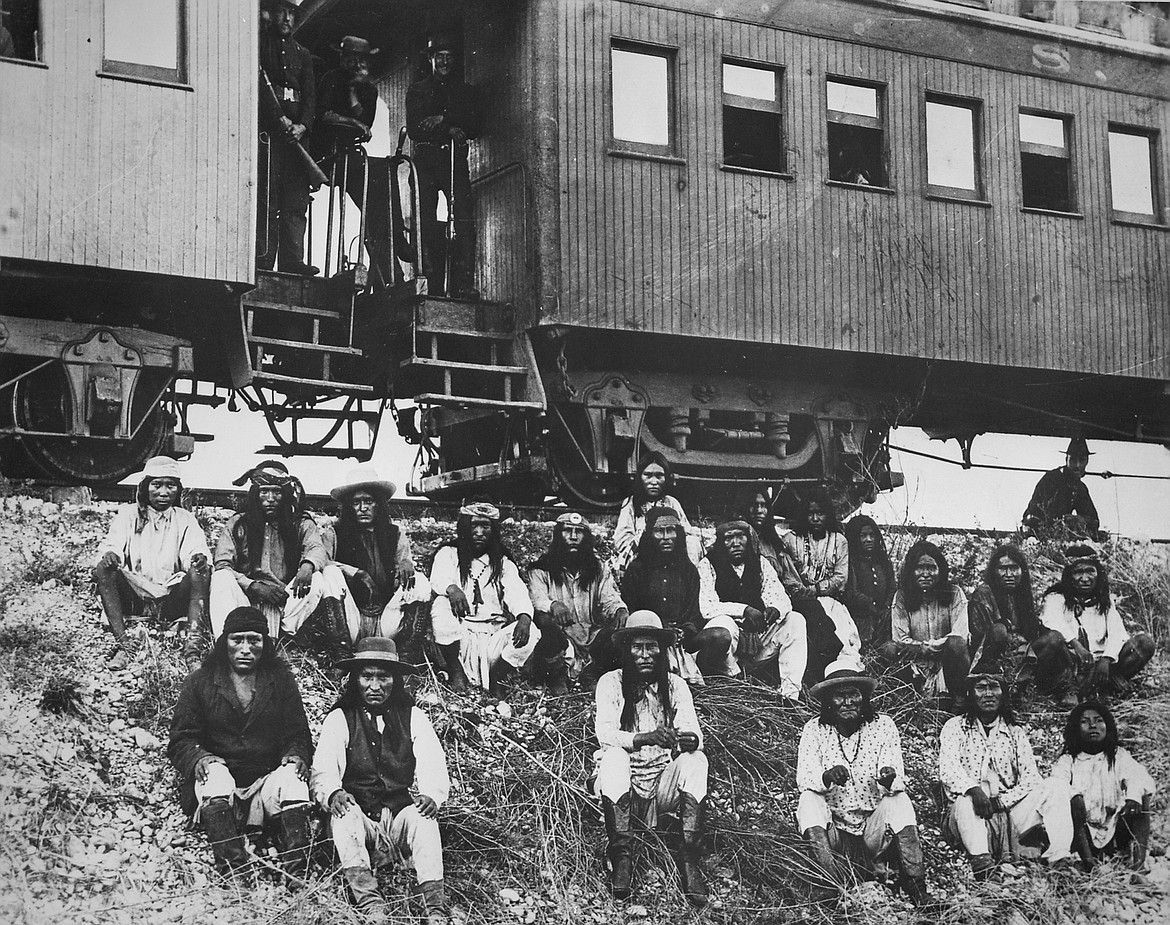 Geronimo's final band in front of the train taking them to prison in Florida, showing Geronimo third from right in front row, Naiche, chief of the band on his left, and woman warrior Lozen third from right in back row (only known picture of her).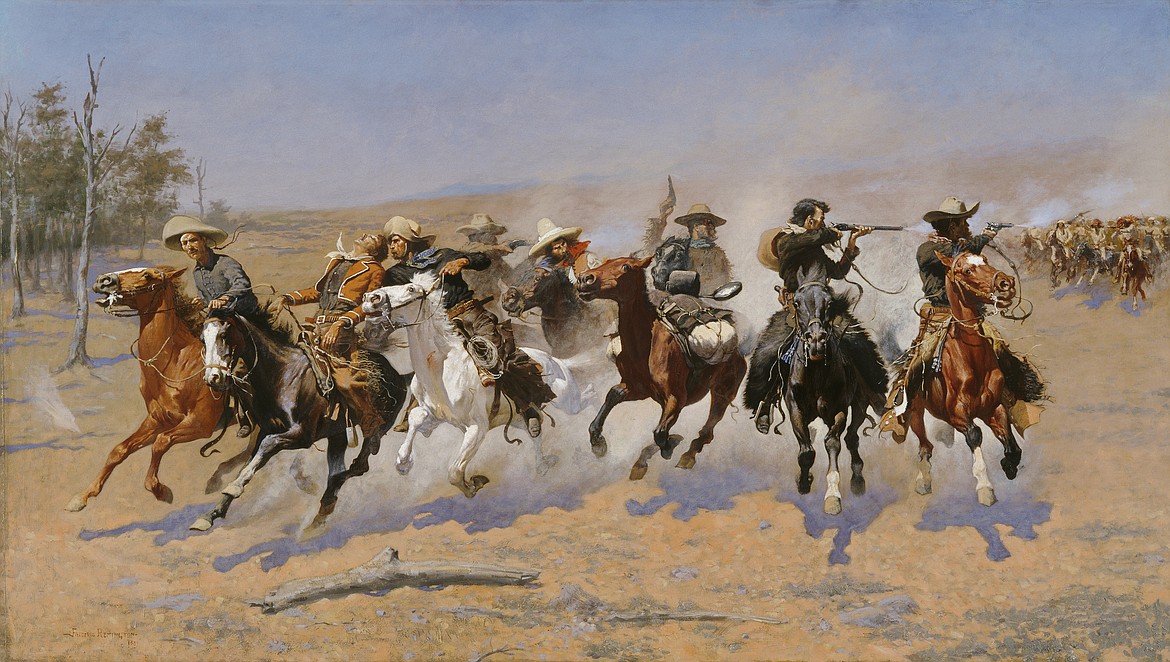 "A Dash for the Timber" 4-by-7-foot painting by Frederic S. Remington (1861-1909) depicting "anxious flight and vigorous pursuit" during the Apache Wars (1889).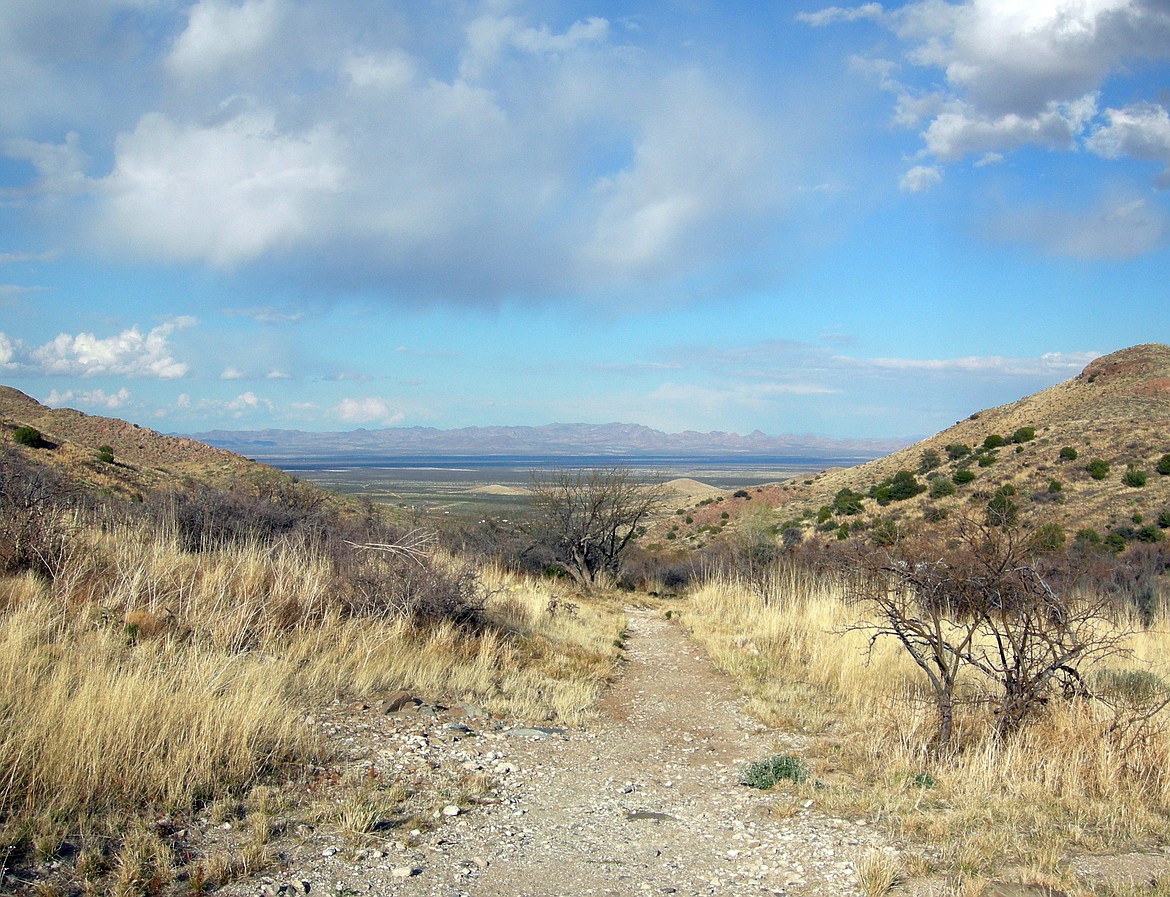 View from Fort Bowie of the 1862 Battle of Apache Pass site in Arizona (then New Mexico Territory) located between the Dos Cabezas Mountains and Chiricahua Mountains, where Apaches led by Cochise, that allegedly included a young Geronimo, were defeated by U.S. Army soldiers and California Volunteers.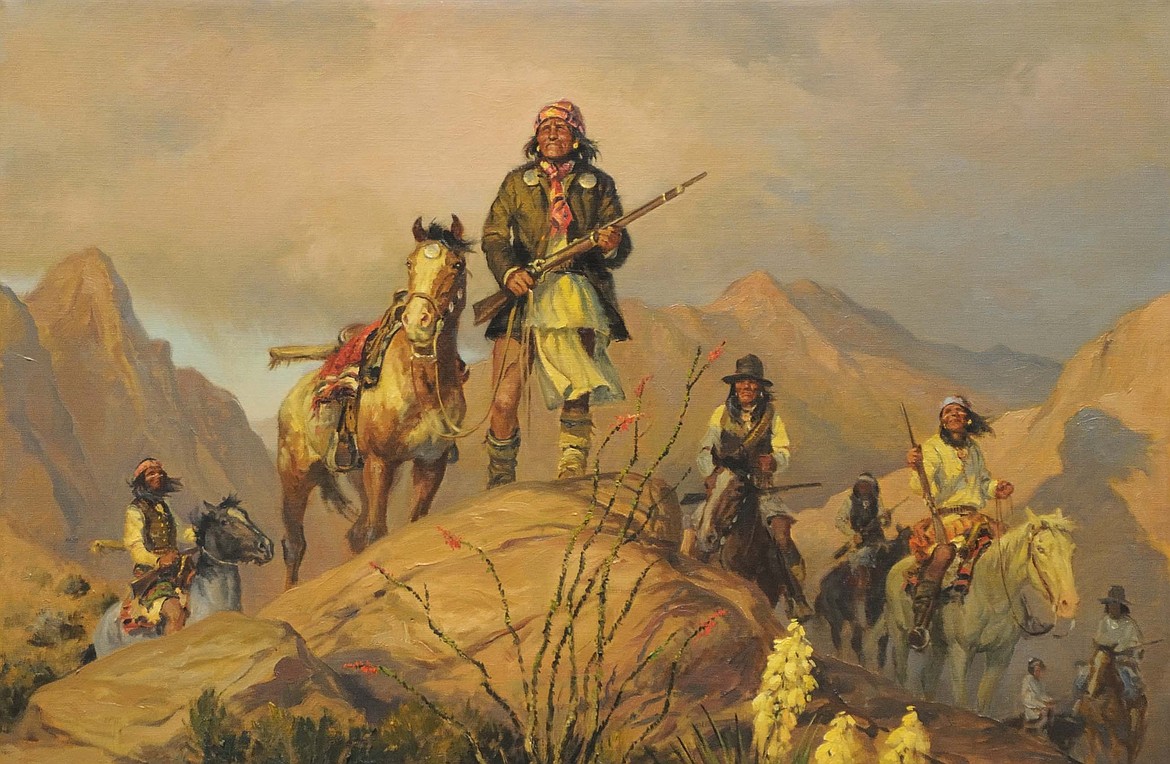 "Geronimo with His Band in the Chiricahua Mountains" painting by Charlie Dye (1906-1972).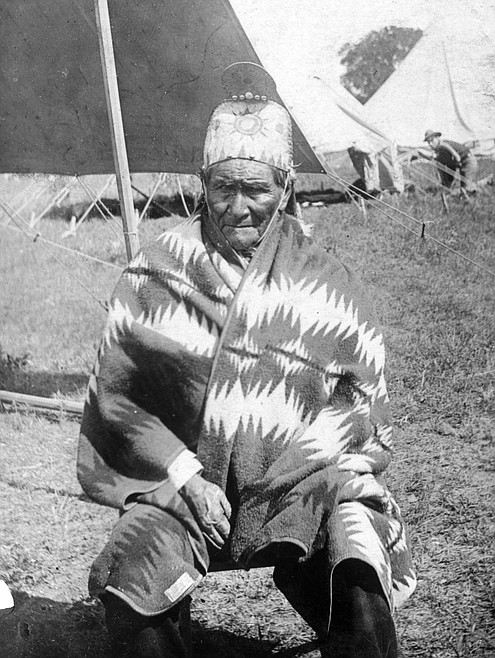 Geronimo as a U.S. prisoner in 1905 is buried at Fort Sill, Okla.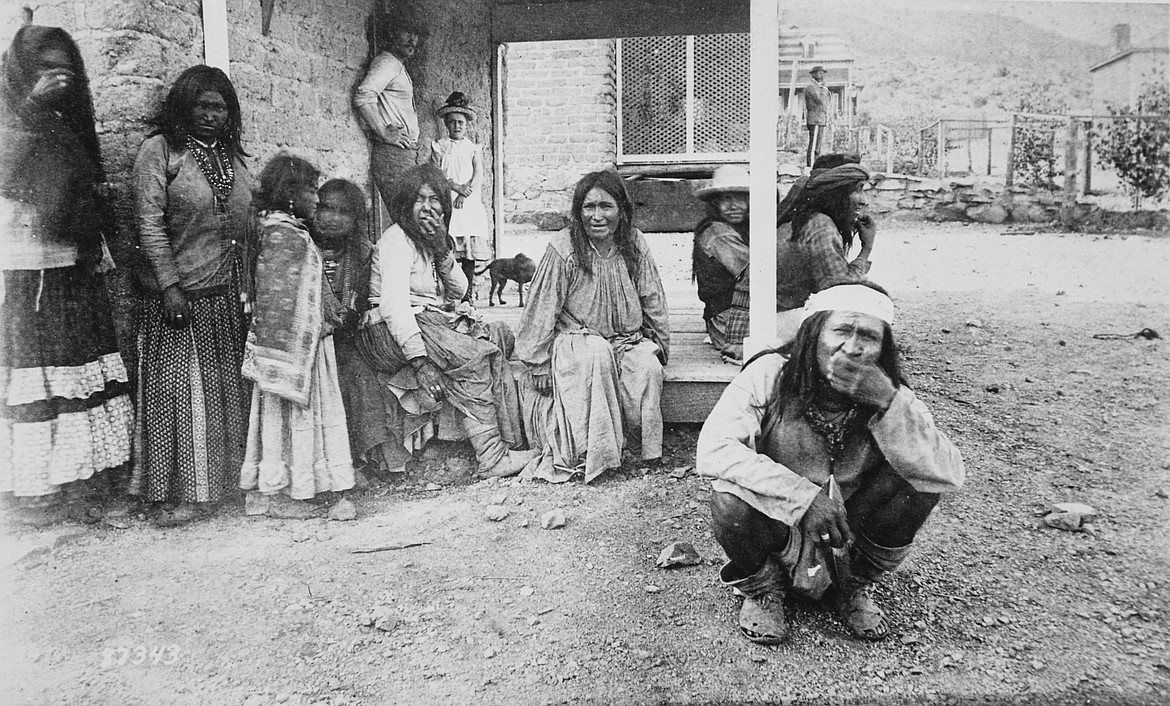 Apache prisoners at Fort Bowie, Ariz., awaiting transportation to Florida.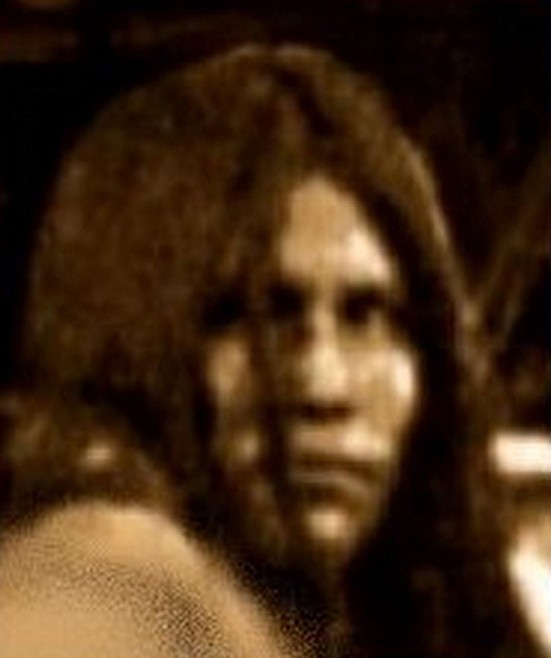 This grainy photo of Apache woman warrior Lozen is the only know image of her, taken from a group photo of Apache prisoners awaiting train transportation to Florida shown with this article.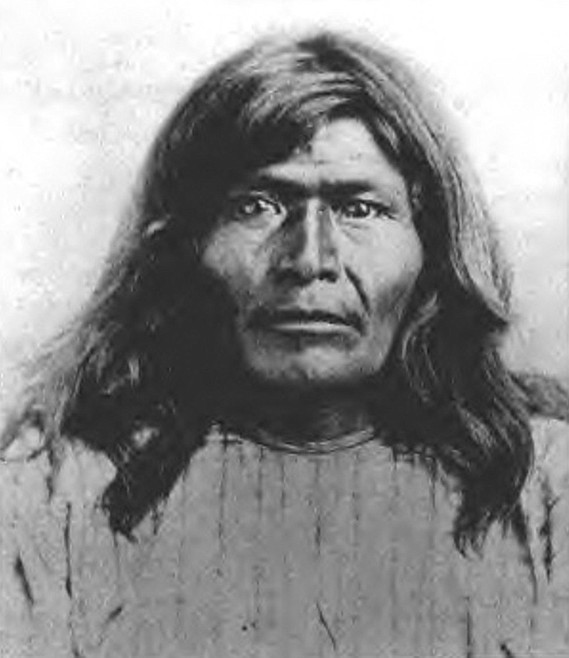 Apache war Chief Victorio (1825-1880) of the Warm Springs band of Tchihendeh (usually called Mimbreño) division of the central Apaches for years led warriors into battle to keep their traditional lands before being killed by Mexican soldiers at the Battle of Tres Castillos in Chihuahua, Mexico (photo c.1875).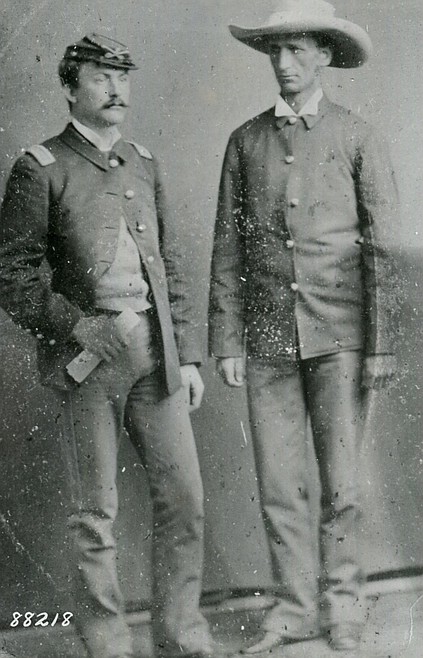 U.S. Army Lieutenant Charles B. Gatewood (right) who negotiated Geronimo's surrender in 1886, shown here with Lieutenant M.F. Goodwin, 10th Cavalry.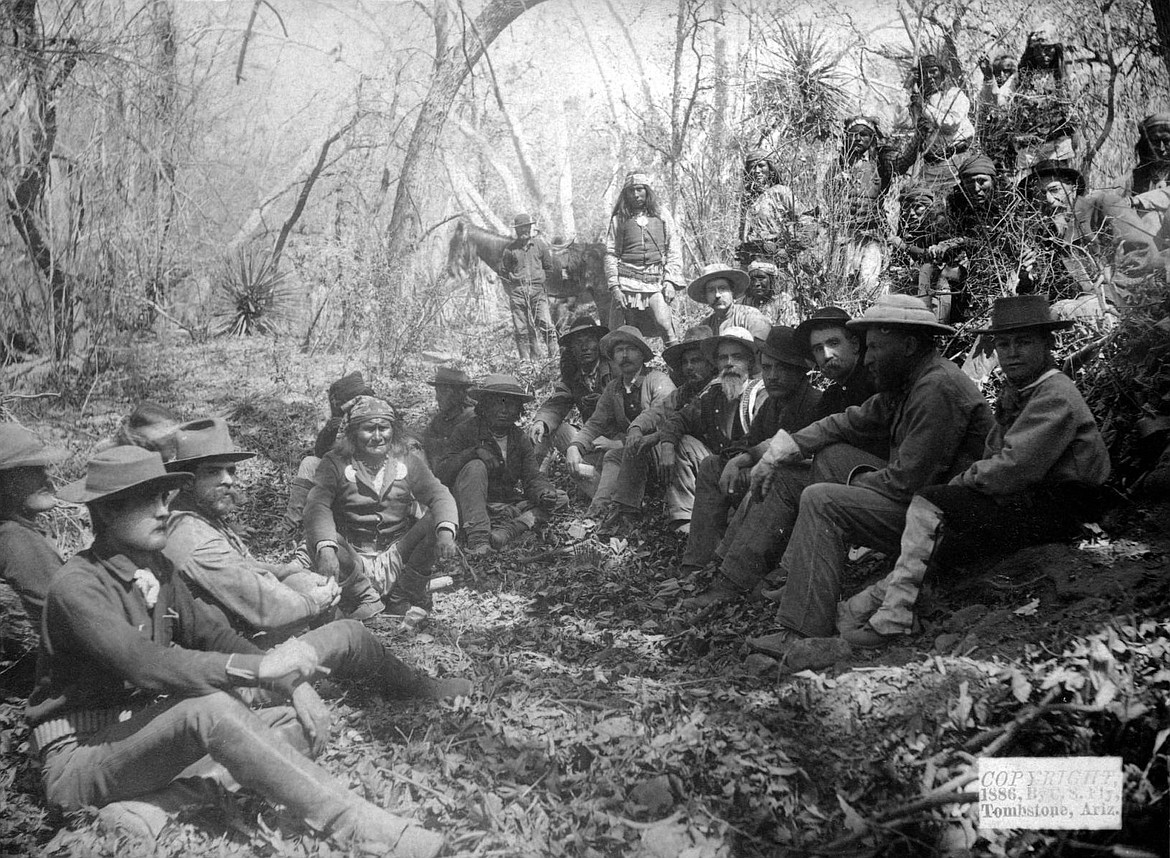 Geronimo poses with members of his Apache band and General George Crook's staff during peace negotiations that failed on March 27, 1886.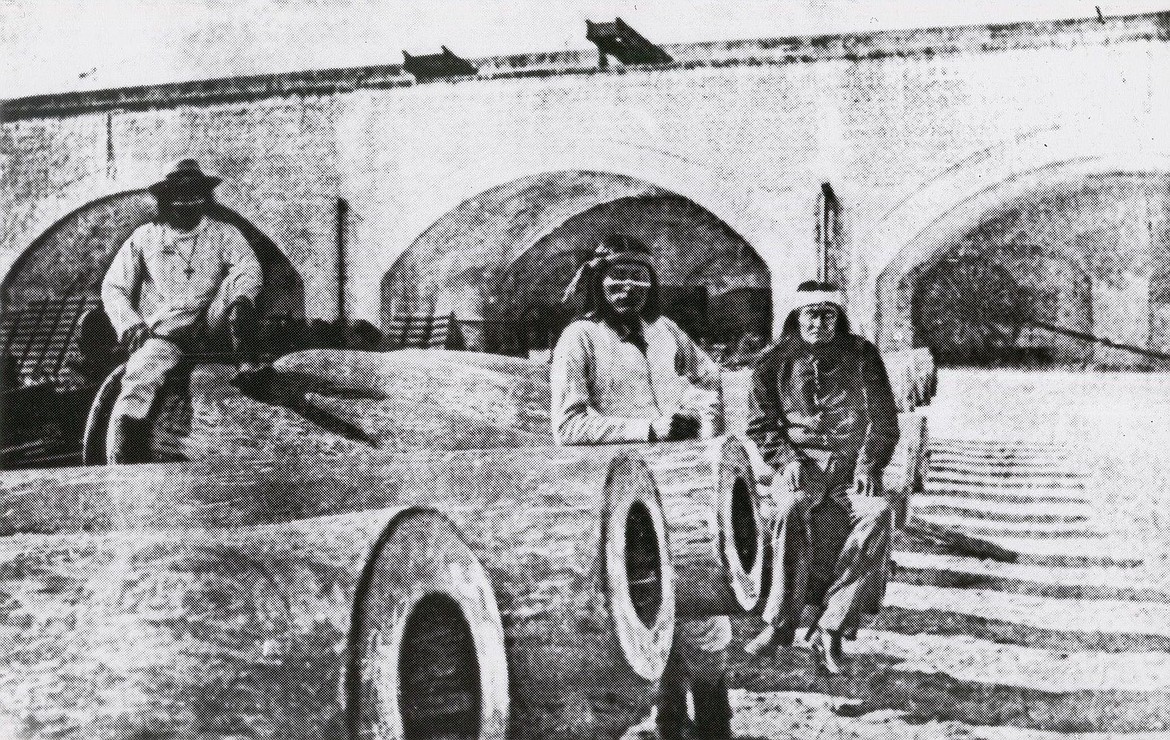 Geronimo on right imprisoned at Fort Pickens in Pensacola, Fla. (1886).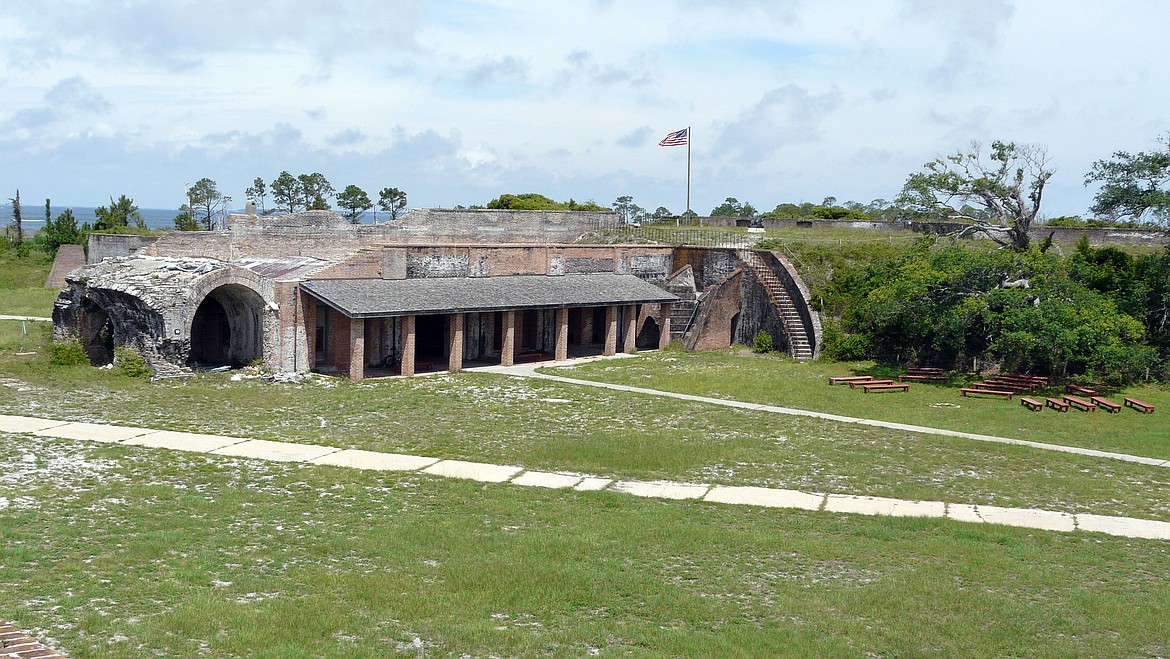 Fort Pickens, Pensacola, Fla., today where Geronimo and the remainder of his Apache band was imprisoned for two years before being relocated to Mt. Vernon Barracks, Ala., where a quarter of them died of tuberculosis, the survivors were then sent to Fort Sill, Okla.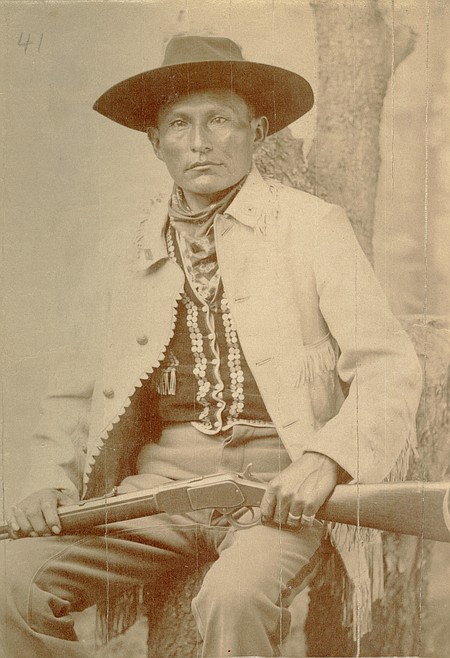 Chiricahua Apache Chieftain Naiche, Cochise's son, was with Geronimo when he surrendered to General Nelson A. Miles in 1886.
Previous
Next
by
SYD ALBRIGHT
|
February 14, 2021 1:00 AM
The great Apache war chief Geronimo was 22 years old in 1851 and was away trading for supplies at the town of Janos in the northern Mexican state of Chihuahua. Suddenly 400 Mexican soldiers attacked his lightly guarded camp and murdered his wife Alope and their three children, along with about 100 other women and children.
With a sad heart he burned all the family belongings, honoring Apache traditions.
Then he disappeared into the wilderness to grieve, when a voice said to him, "No gun will ever kill you. I will take the bullets from the guns of the Mexicans … and I will guide your arrows."
Hating all who would harm the Apache people from that time on, Geronimo swore vengeance and led a series of bloody raids on both soldiers and civilians with remarkable military skill — "exhibiting extraordinary courage and determination."
He and his band of Chiricahua Apache Indians spent the next 35 years being chased across the American Southwest and northern Mexico.
Three times they were caught and confined to Indian reservations, and three times they escaped to continue raiding and killing.
At first, Geronimo was not at war with Americans, and raided only the Mexicans.
In retaliation, the Mexican government put a bounty on Apache scalps — paying as much as $25 for a child's scalp.
"I have killed many Mexicans," he wrote years later in his autobiography. "I do not know how many, for frequently I did not count them.
"Some of them were not worth counting."
One target of Geronimo's revenge was Juan Mata Ortiz, commander of a Mexican town garrison who two years earlier at the Battle of Tres Castillos, killed more than half the Apaches and took most of the rest prisoner.
Geronimo lured Ortiz into a trap by stealing horses, knowing that he and his troops would search for them.
At a place called Chocolate Pass, Geronimo's band surrounded the Mexican troops and picked them off with rifles — saving Ortiz for last.
He was caught and Geronimo told him, "You're not going to have a quick death — no bullet, no arrow, no lance, but fire."
He was burned alive in a pit.
Most Apache in those times preferred peace with the whites, believing that was the best way to preserve what they could of Indian life and tradition, but vengeance ruled Geronimo's spirit.
The Apache historically never had it easy.
Long before recorded history, the Apache and Navajo lived as hunters and gatherers in Alaska, Canada and the Pacific Northwest. Then they migrated to the Great Plains and Rocky Mountains, where food was plentiful with the vast herds of buffalo and other wildlife.
Larger Indian tribes became dominant and over time forced them to move into the American Southwest. Then in the mid-16th century, the Spanish Conquistadors brought more conflict by introducing horses and guns — forever changing how they fought their battles.
Indian groups fighting each other was commonplace, but after Lewis and Clark opened up the American Northwest, incoming whites competing for land and its natural resources in the name of Manifest Destiny created a clash of cultures, with violence and conflict inevitable.
That was the American scene when Geronimo was born in the Gila River area of Arizona in 1829, when it was New Mexico Territory and still part of Mexico.
Geronimo was a Bedonkohe Apache that married into the Chiricahuas. His name meant "one who yawns."
Though he was a medicine man and great leader, Geronimo was never a tribal chief, though respected and feared, and is said to have possessed supernatural powers — "including the ability to heal the sick, slow time, avoid bullets, bring on rainstorms and even witness events over great distances."
Several of those "supernatural powers" have also been credited to Lozen, a Chihenne Chiricahua Apache woman warrior and sister of Chief Victorio, a Chiricahua chieftain killed by the Mexicans at the Battle of Tres Castillos in 1880.
She was with Geronimo when he finally surrendered. "Lozen is my right hand," Geronimo said, "strong as a man, braver than most, and cunning in strategy.
"Lozen is a shield to her people."
Apache Jason Betzinez tells the story he witnessed sitting around a campfire with Geronimo and several other warriors:
Geronimo suddenly had a premonition of U.S. troops attacking their base camp. Days later, they learned that the attack happened.
"I cannot explain it to this day," Betzinez wrote later.
In 1874, 4,000 Apaches were forcibly moved by U.S. authorities to a barren wasteland reservation at San Carlos in east-central Arizona. Conditions were miserable and the Apaches turned to Geronimo and other leaders to save them.
Geronimo and those who chose to go with him escaped from the reservation — beginning a 22-year rampage plundering and killing Mexican and American soldiers and civilians.
In the spring of 1885, Geronimo and Apache Chief Naiche, Cochise's son and last Chiricahua hereditary chief, along with their dwindling band of followers bolted from the San Carlos Reservation and fled to Mexico and resumed raiding.
U.S. Army Brigadier General George Crook was assigned to capture Geronimo, but neither he nor the Mexican troops could catch them — but the end was drawing near.
In March 1886, Crook was finally able to meet with Geronimo at Cañón de los Embudos in Sonora, Mexico, to talk about surrendering. The meeting was tense, with Crook belittling Geronimo.
In the end however, Geronimo agreed to return to the U.S. But that night, Geronimo, Naiche and about 135 warriors, women and children fearing for their lives reneged on the agreement and fled.
That failure cost Crook his command and he was replaced by Brigadier General Nelson A. Miles — the same general who nine years earlier accepted Idaho Nez Percé Chief Joseph's surrender at Bears Paw Mountains in Montana — just 40 miles short of safety in Canada — after a 1,170-mile chase across present-day Oregon, Washington, Idaho, Wyoming and Montana.
Miles continued the hunt for Geronimo, but like Crook before him, also failed.
Then in July, he ordered Lieutenant Charles B. Gatewood to "Find Geronimo and Naiche in Mexico and demand their surrender."
Gatewood was the right man for the job. A graduate of West Point, he was assigned to the Arizona Territory and became an expert on the Apache, and was given command of Apache and Navajo scouts chasing renegade Apaches.
On Aug. 23, 1886, Gatewood led 25 men and two Apache scouts into the Sierra Madre and found Geronimo's camp — his band reduced to only 20 men and 14 women and children. Gatewood was welcomed into the Apache camp. "You are always welcome in my camp," Geronimo said, "and it will always be safe for you to come."
After presenting him with a gift of 15 pounds of tobacco and rolled cigarette papers, Gatewood respectfully urged Geronimo to meet with General Miles.
The following month — on Sept. 4, 1886, Geronimo and his small band finally surrendered to him at Skeleton Canyon, Ariz. — just north of the border.
On Oct. 25, 1886, a train pulled into the station at Pensacola in the Florida Panhandle, where Geronimo and 16 other Apache warriors were imprisoned at Fort Pickens, separated from their families.
The government even imprisoned most of the Apaches who had been loyal and trusted Army scouts for years.
The women, children and some of the men were sent to Fort Marion in St. Augustine, Fla.
Geronimo's men were put to hard labor at the fort, in direct violation of terms agreed upon with General Miles at Skeleton Canyon.
Pensacola locals however were delighted to have Geronimo as a tourist attraction in their midst — drawing an average 20 tourists a day.
The president of the United States Grover Cleveland was not delighted with Geronimo.
"I hope nothing will be done with Geronimo which will prevent our treating him as a prisoner of war — if we cannot hang him — which I would much prefer," he said.
The Apache Wars lasted 75 years and didn't finally end until 1924 — long after Geronimo was gone.
Just before he died, he told his nephew, "I should have never surrendered. I should have fought until I was the last man alive."
• • •
Contact Syd Albright at silverfflix@roadrunner.com.
• • •
The Apache tribes…
The major Apache groups, each speaking a different dialect, include the Jicarilla and Mescalero of New Mexico, the Chiricahua (Geronimo's band) of the Arizona-New Mexico border area, and the Western Apache of Arizona. The Yavapai-Apache Nation Reservation is southwest of Flagstaff, Ariz. Other groups were the Lipan Apache of south-western Texas and the Plains Apache of Oklahoma.
— Kathy Weiser, Legends of America
'Geronimo' paratroopers…
U.S. Army paratroopers have a tradition of shouting "Geronimo!" as they leap from the airplane to show that they have no fear — the practice possibly inspired by the 1939 movie "Geronimo." The code name Geronimo was also used for the raid that killed al-Qaida terrorist Osama bin Laden in 2011 — but later it was renamed Operation Neptune Spear because some Native Americans were offended.
What happened to Lt. Gatewood?
Several years after Geronimo's surrender, Lieutenant Charles Gatewood left the Army after a severe injury suffered while serving in Wyoming's famous Johnson County War. In 1895, he was recommended for the Medal of Honor by General Nelson A. Miles, "for gallantry in going alone at the risk of his life into the hostile Apache camp of Geronimo in Sonora, August 24, 1886." The recommendation was rejected "because Gatewood never distinguished himself in hostile action." He died of stomach cancer in 1896 and is buried at Arlington National Cemetery.
Geronimo's Christian conversion…
"Since my life as a prisoner has begun, I have heard the teachings of the white man's religion, and in many respects believe it to be better than the religion of my fathers … and that associating with Christians would improve my character," Geronimo said. But late in life, he told Christian missionaries at a summer camp in 1908 that he wanted to start over, while at the same time telling his tribesmen that he held to the old Apache religion.
Geronimo quote…
"We are vanishing from the earth, yet I cannot think we are useless or else God would not have created us. He created all tribes of men and certainly had a righteous purpose in creating each."
― Geronimo
---