Towering craft, performances in 'Power of the Dog,' 'Belfast'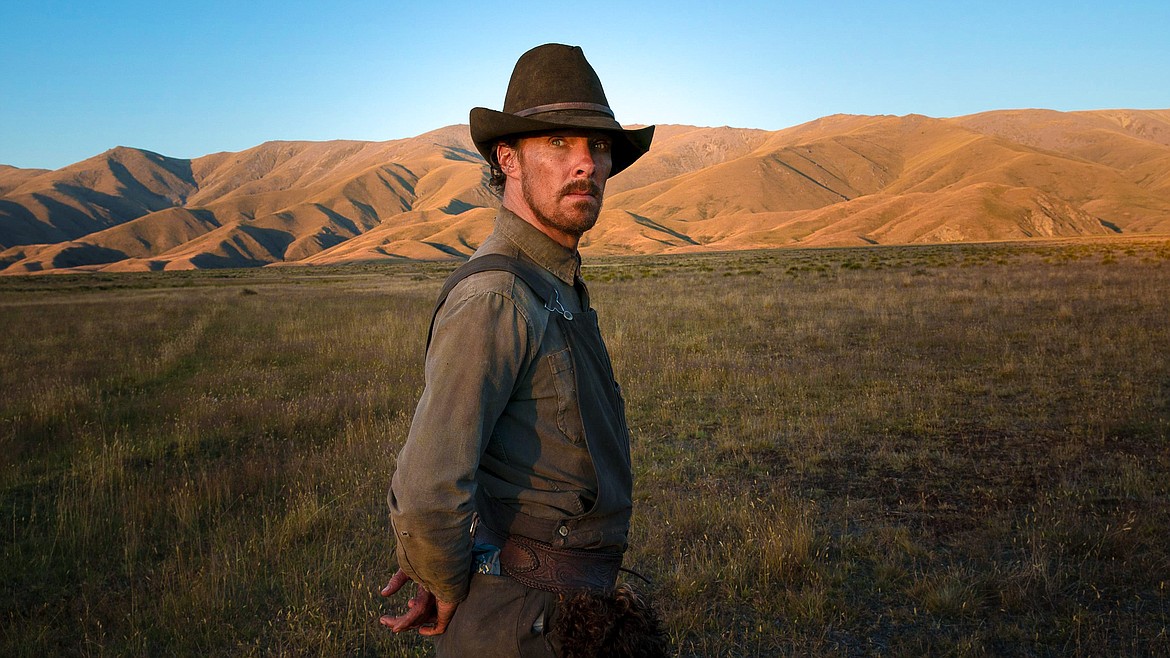 Still from filmmaker Jane Campion's The Power of the Dog
by
TYLER WILSON/Coeur Voice contributor
|
December 8, 2021 1:00 AM
The right experience behind the camera can elevate any good story to greatness. Jane Campion, the Oscar-winning filmmaker of 1993's "The Piano," demonstrates her mastery of form again with the Netflix western, "The Power of the Dog."
Campion writes and directs "Dog," based on the 1967 novel by Thomas Savage, with the icy precision that perfectly matches the film's main character, Phil Burbank, played by Benedict Cumberbatch. Phil, an intelligent-but-abrasive "man's man," spends his days as a cattle driver in Montana, circa 1925. He and his brother, George (Jesse Plemons), are wealthy ranch owners, though Phil prefers a frugal life, sharing a bedroom with his brother and reminiscing about the rugged adventures of his former mentor, the now-deceased Bronco Henry.
When George falls for a widowed restaurant owner (Kirsten Dunst), Phil assumes the woman and her effeminate son, Peter (Kodi Smit-McPhee) are after the Burbank money. And so Phil uses his wits and acid tongue to terrorize both as they become more embedded with the family and business.
Phil's behavior is probably best defined as "extreme toxic masculinity," though Cumberbatch's entrancing performance immediately suggests a more complicated mind at work. Campion's script unspools across five distinct chapters, each adding more nuance to Phil while also allowing growth and revelations for the three other key characters. The back half of the film hones in on the relationship between Phil and Peter, who is attending school to become a surgeon and may be more in-tune with Phil's deeper insecurities.
A story that frontlines a character as initially unlikeable as Phil can be a monumental challenge, though an enigmatic performer like Cumberbatch certainly softens that first blow. He's incredible throughout, and is thankfully matched by emotive performances by Plemons, Smit-McPhee and especially Dunst, doing some of the most resonant work in her already very good career.
Campion's "The Power of the Dog" is superbly crafted too, with gorgeous-but-intentional cinematography, economic editing and storytelling, and an unnerving, often-haunting score by Jonny Greenwood. The film's final chapter is especially masterful and is further enhanced by subsequent viewings.
Campion and her film seem destined for numerous Oscar nominations early next year. Another major contender, the coming-of-age tale, "Belfast," also largely succeeds because of the writer/director Kenneth Branagh's personal and razor-focused approach.
"Belfast" tells the story of a working class family struggling to avoid violent neighborhood conflict on the streets of Belfast, Northern Ireland in 1969-1970. Told through the eyes of young Buddy (newcomer Jude Hill), the film indulges in the boy's various "kid-level problems" while larger social issues invade around the margins.
Branagh, who does not appear in the film as an actor, has said "Belfast" is an extremely personal film, and that's evident in the intimate scenes between Buddy and his family members, particularly with his grandparents played by Ciaran Hinds and Judi Dench in typically strong form. Buddy's parents are also given a full spectrum of personality detail even with limited screen time too, and performers Caitriona Balfe and Jamie Dornan quietly deliver evocative moments. (Side note: This is the second film this year with a wonderful Jamie Dornan musical moment, after his comedic breakout in "Barb and Star Go to Vista Del Mar.")
Branagh's rich black-and-white palette works well for the time period (minus a few too many artificial-feeling camera movements) and the brisk running time contains precisely zero bloat, a tough feat for a slice-of-life style-film.
"Belfast" is now playing in theaters and available on premium video on demand. "The Power of the Dog" is streaming exclusively on Netflix.
• • •
Tyler Wilson is a member of the International Press Academy and has been writing about movies for Inland Northwest publications since 2000, including a regular column in The Press since 2006. He can be reached at twilson@cdapress.com.
Recent Headlines
---