Right where she belongs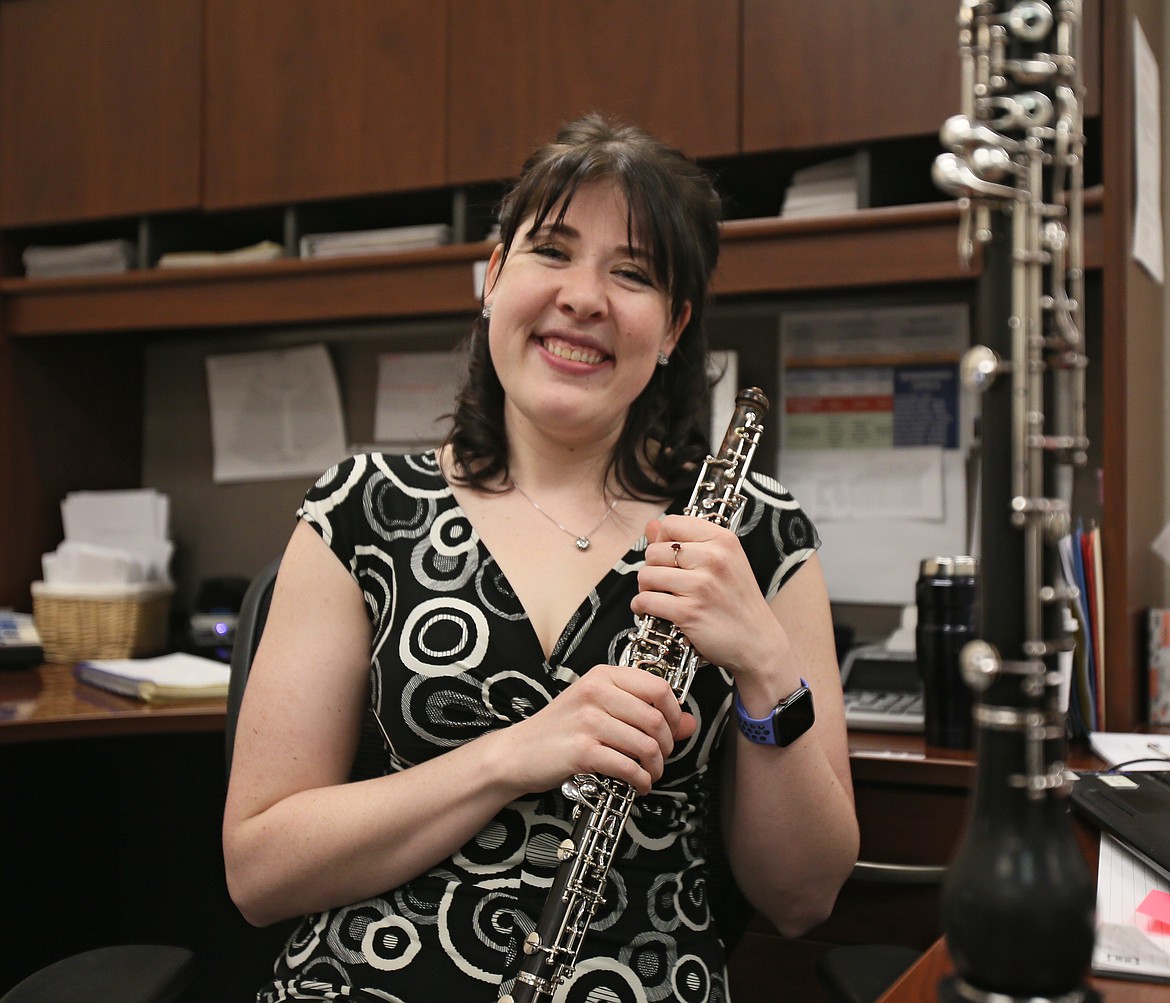 Talented oboist and 2006 Coeur d'Alene High School grad Holly Blanchette is the new executive director of the Coeur d'Alene Symphony Orchestra. She is seen here at her desk in the CSO office Friday afternoon.
DEVIN WEEKS/Press
by
DEVIN WEEKS
Staff Writer
|
April 24, 2021 1:00 AM
The new executive director of the Coeur d'Alene Symphony Orchestra didn't apply for the position.
She had hopes of landing a job as office manager.
When they came across her application, members of the CSO hiring team knew talented oboist Holly Blanchette was meant for much more.
They called her immediately.
"They're like, 'Can you come in tomorrow at 8:30?'" Blanchette said Friday, seated at her desk in the CSO office in downtown Coeur d'Alene. "This is what musicians train for though, last-minute performances. You put on the face, pull it together and go in."
She interviewed at the end of February and was notified in early March that she would be the CSO's new director.
"I definitely was sitting there thinking, 'You want to give me the controls? I'm just 33 years old!" she said, smiling.
Blanchette said she was immensely humbled and honored by the offer.
"I remember just getting off the phone and crying because they see more in me than I saw in myself at that time," Blanchette said. "That was huge."
One peek at Blanchette's resume and it makes sense why the CSO was so quick to acquire her.
Blanchette was born and raised in Coeur d'Alene. She attended Dalton Elementary, Canfield Middle and Coeur d'Alene High schools.
She graduated from CHS in 2006, earned a bachelor of music in oboe performance from the University of Idaho in 2010, obtained her master of music from the University of North Carolina at Greensboro in 2013 and a doctorate of musical arts with a minor in musicology from the University of Georgia in 2017.
Multiple awards, honors and experience also enhance her appeal.
Blanchette is quite fond of the oboe. She fell in love with the double reed woodwind instrument in middle school.
"I found it in the band instrument closet at Canfield," she said. "I was just going through. I got bored; I started as a flute player, and was looking through and was like, 'What is this thing?'"
When her teacher, Doug Wood, told her how expensive the reeds are to replace, she knew her parents wouldn't go for it. So she stretched the truth just enough to win their approval.
"I brought it home. I was like, 'Hey, Mr. Wood really wants me to play this,' but I just really wanted to play it," she said with a grin. "It was a challenge; I wanted to learn it in a week. It just stuck with me."
With the help of an instructor, Blanchette also overcame asthma so she could master the oboe.
"It felt like I was having an asthma attack every time I played it, but I just loved it so much, the way I felt like my soul connected with it," she said. "I wanted to keep pursuing it."
After completing her education, Blanchette returned to North Idaho in 2019. Then COVID hit, halting live performances and concerts.
Now she's where she's meant to be — back in North Idaho leading an orchestra she has loved since she was a child.
"My studies on the East Coast brought me countless opportunities to perform as a musician with an extensive list of semi-professional and professional orchestras in the greater Southeast," Blanchette said. "It was through these experiences that I cultivated a passion for the administrative side of orchestral operations.
"I have seen what it takes to create a successful symphony, but I have also seen and experienced what can hinder and harm an organization. I am confident we will bring an energy and passion to the stage that our community has never felt or seen before."
---