HISTORY CORNER: 'Dr. Livingstone I presume?'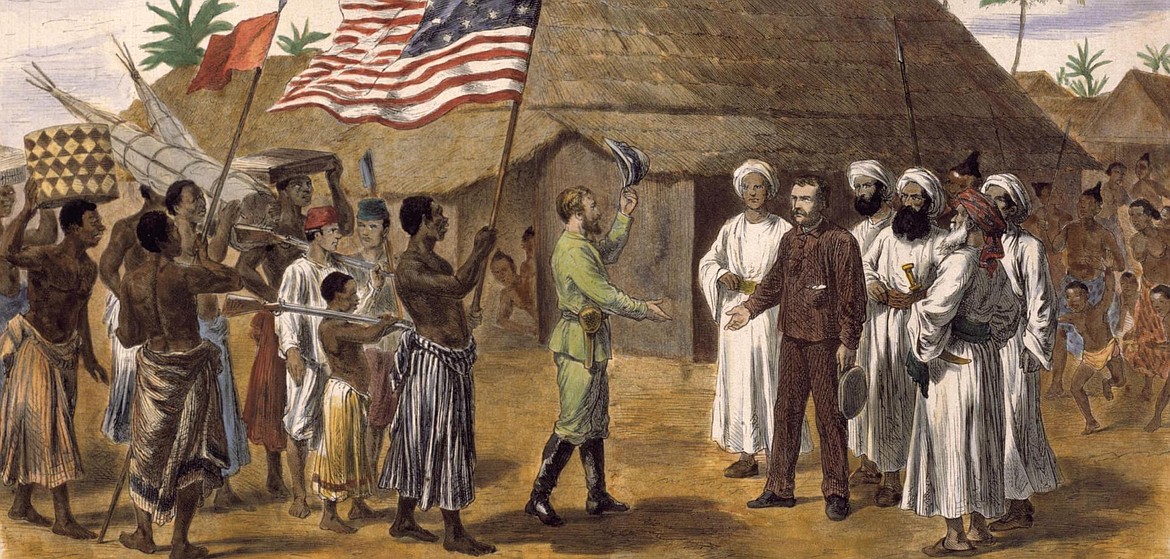 New York Herald correspondent Henry Morton Stanley finding British missionary and explorer David Livingstone in Africa after a harrowing search.
GOOGLE IMAGES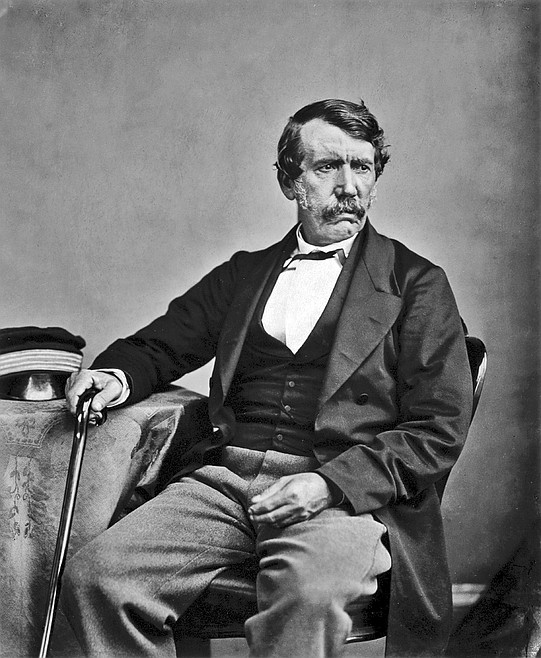 British missionary and explorer Dr. David Livingstone (1813-1873).
WIKIMEDIA COMMONS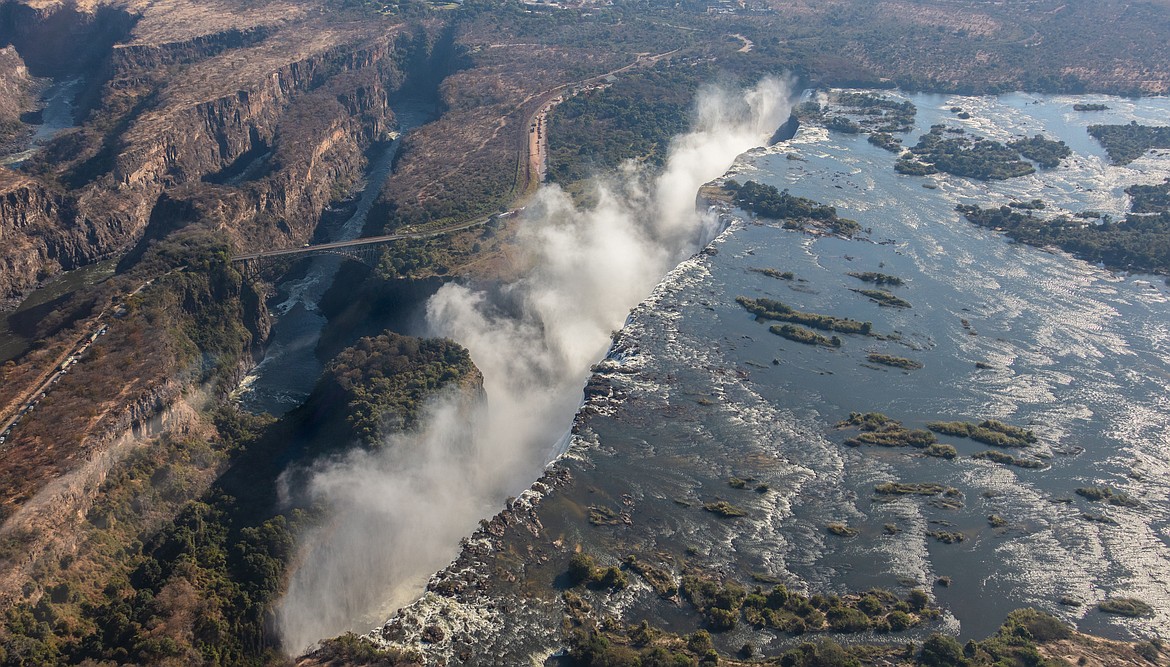 DIEGO DELSO PHOTO In 1855, David Livingstone became the first European to see the Victoria Falls, Zambia-Zimbabwe.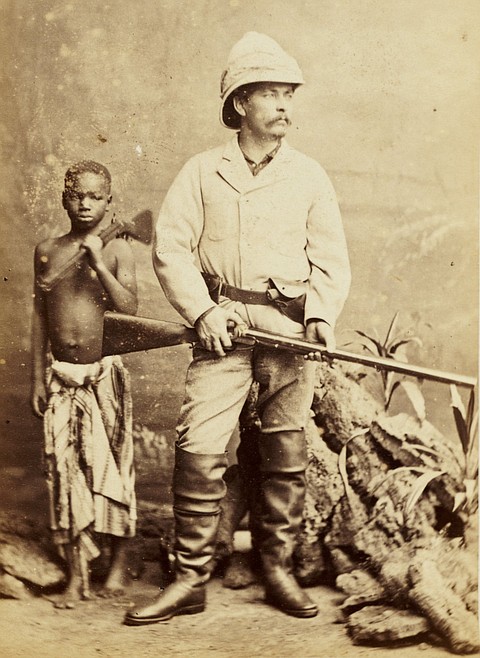 SMITHSONIAN LIBRARIES Carte-de-visite of Henry Morton Stanley (1841-1904), photo 1872.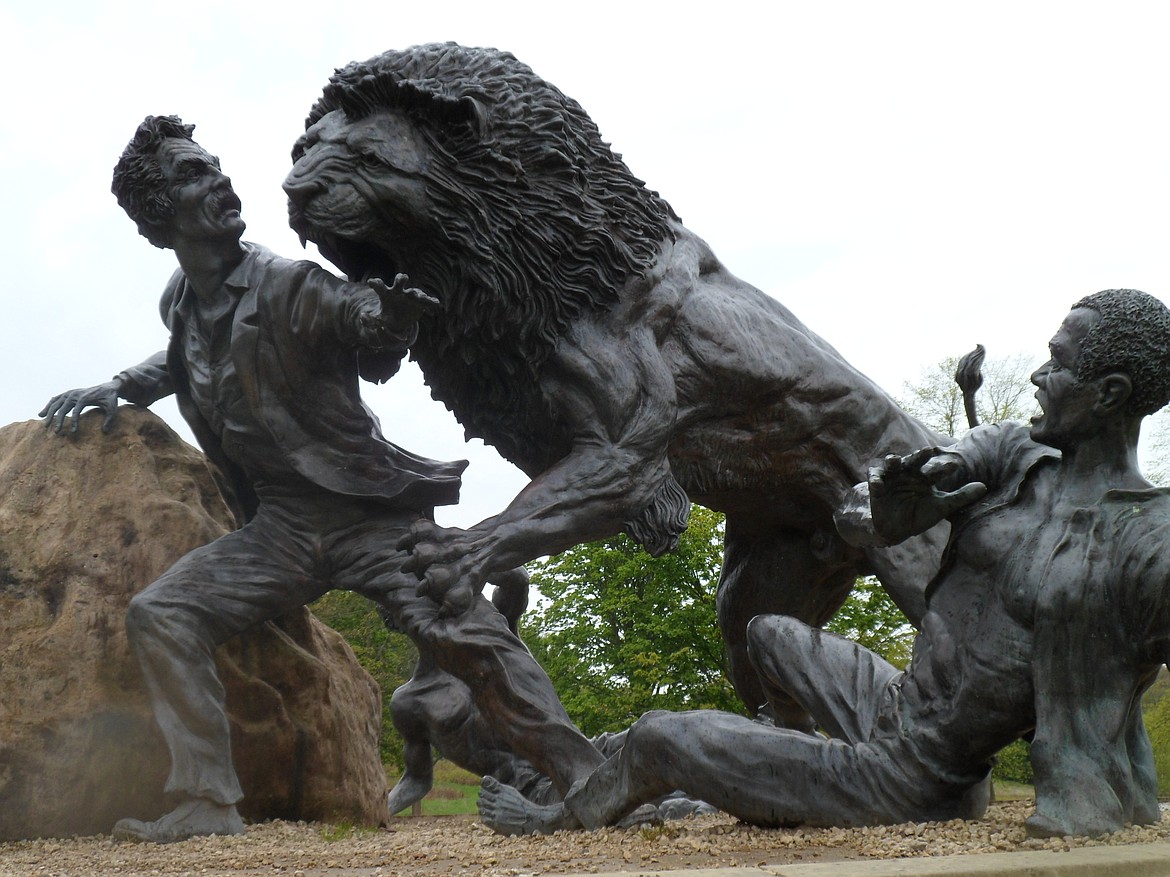 CREATIVE COMMONS Statue depicting Dr. David Livingstone being severely wounded by a lion he was hunting that had been terrorizing Mabotsa in Botswana.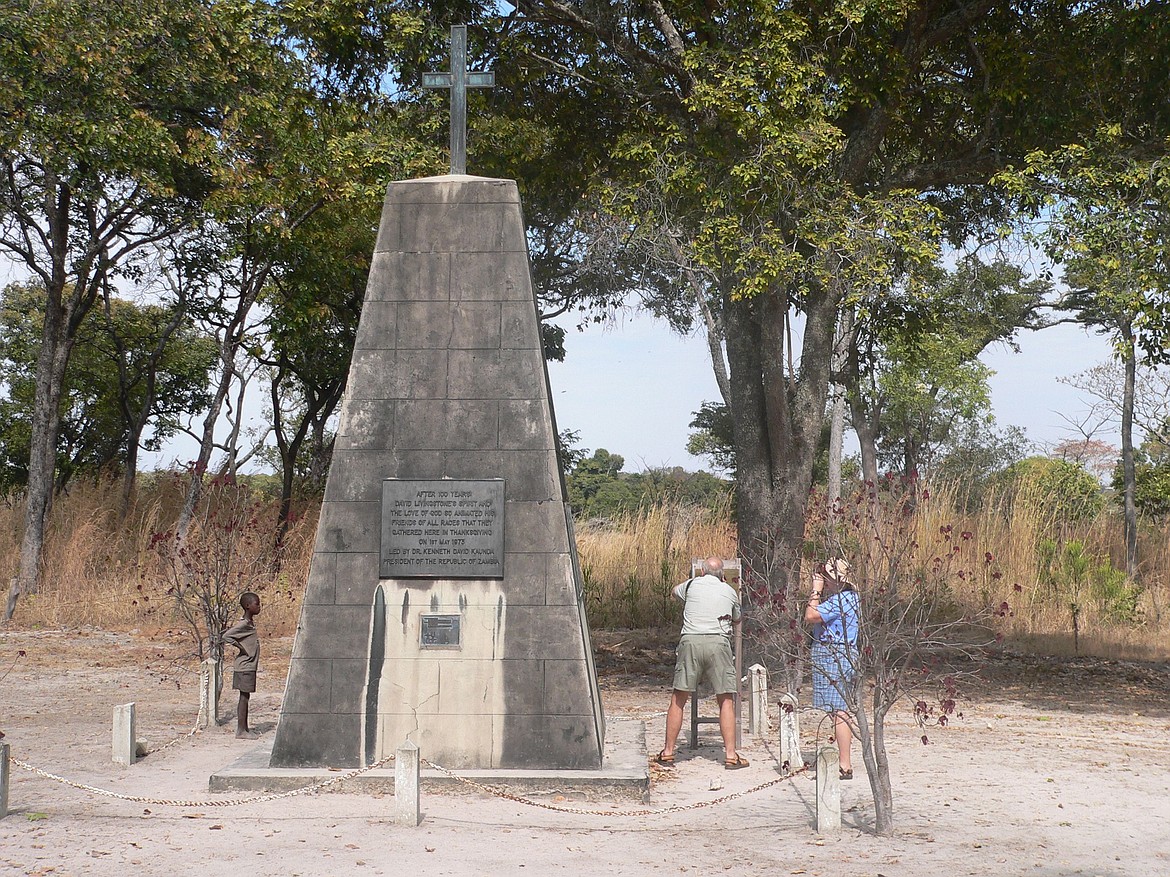 GOOGLE IMAGES Place in Serenje, Zambia, where David Livingstone's heart was buried under an Mvula tree.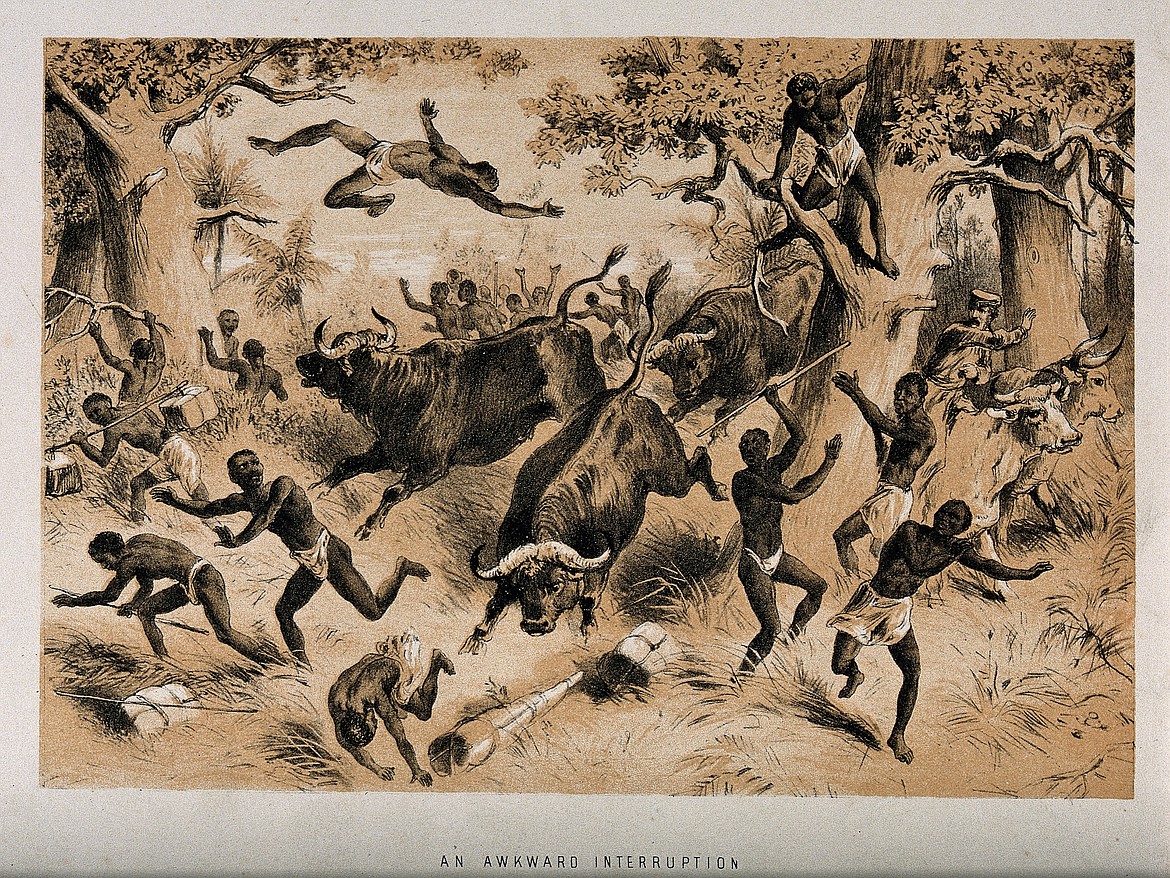 CREATIVE COMMONS David Livingstone and followers being attacked by buffaloes.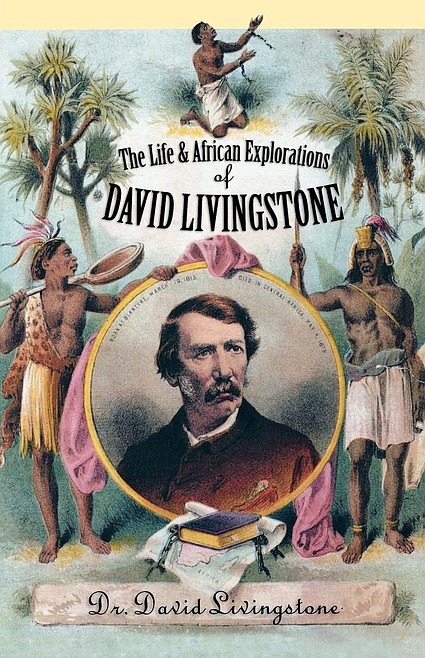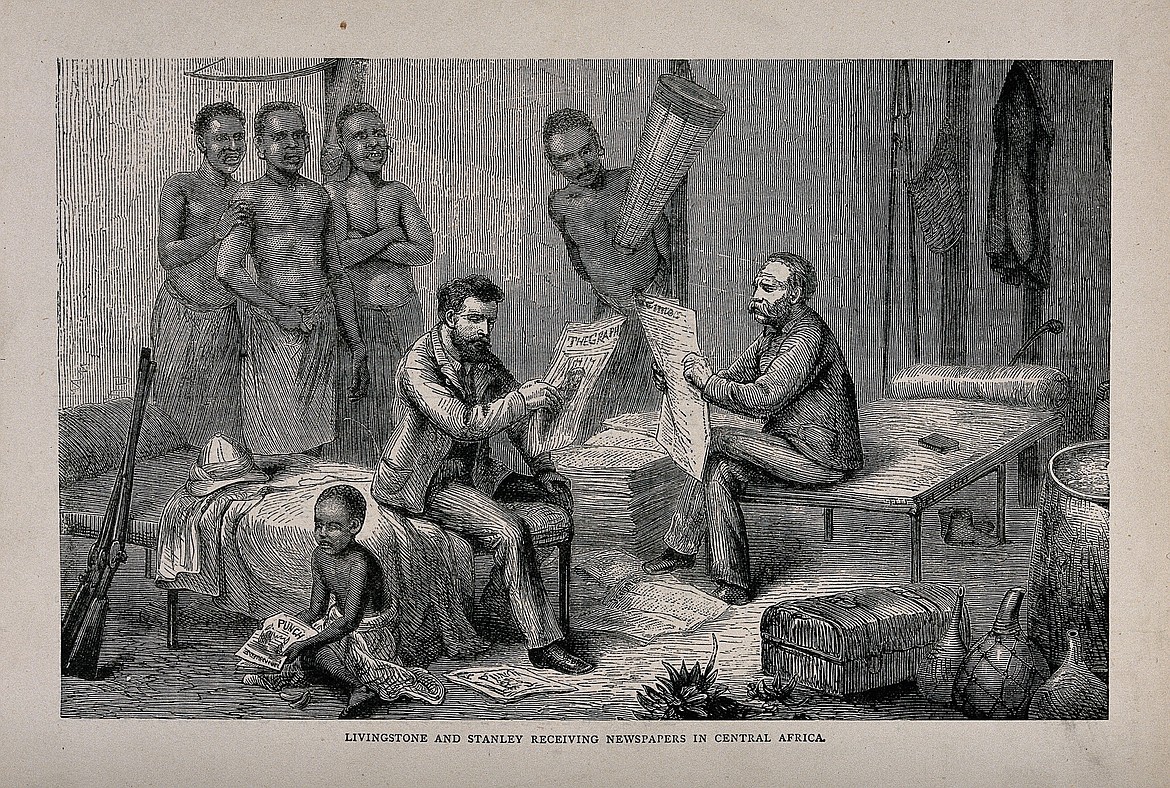 CREATIVE COMMONS Stanley and Livingstone reading newly arrived newspapers in the heart of Africa.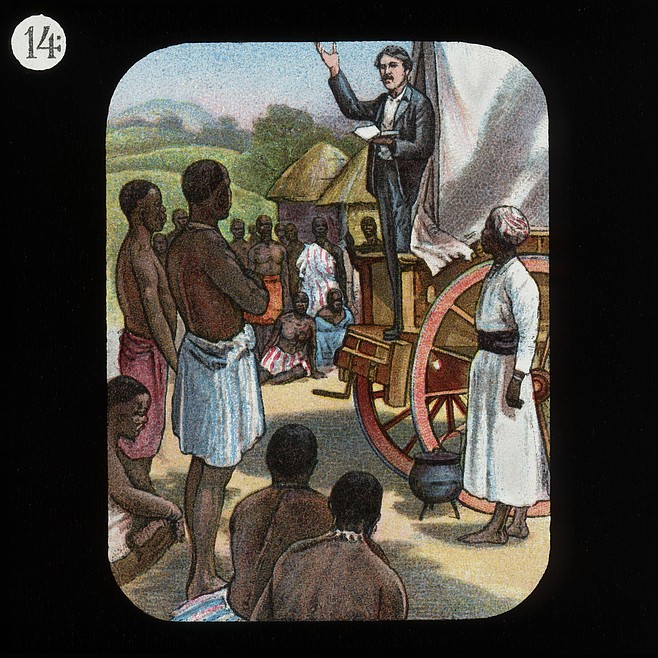 WIKIMEDIA COMMONS David Livingstone preaching Christianity to Africans, converting only one person during his years of missionary work in the Dark Continent.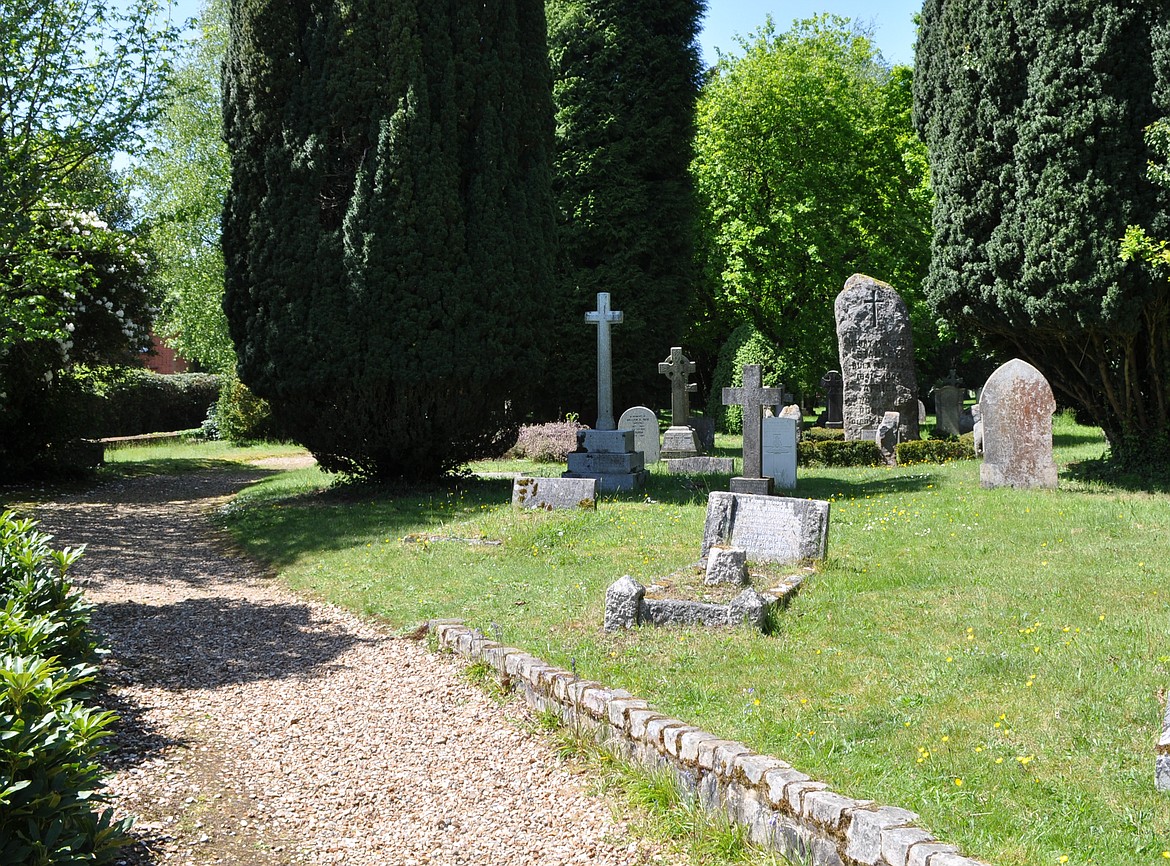 WIKIMEDIA COMMONS Henry Morton Stanley gravesite in Surrey, England, is the tall stone grave marker in back.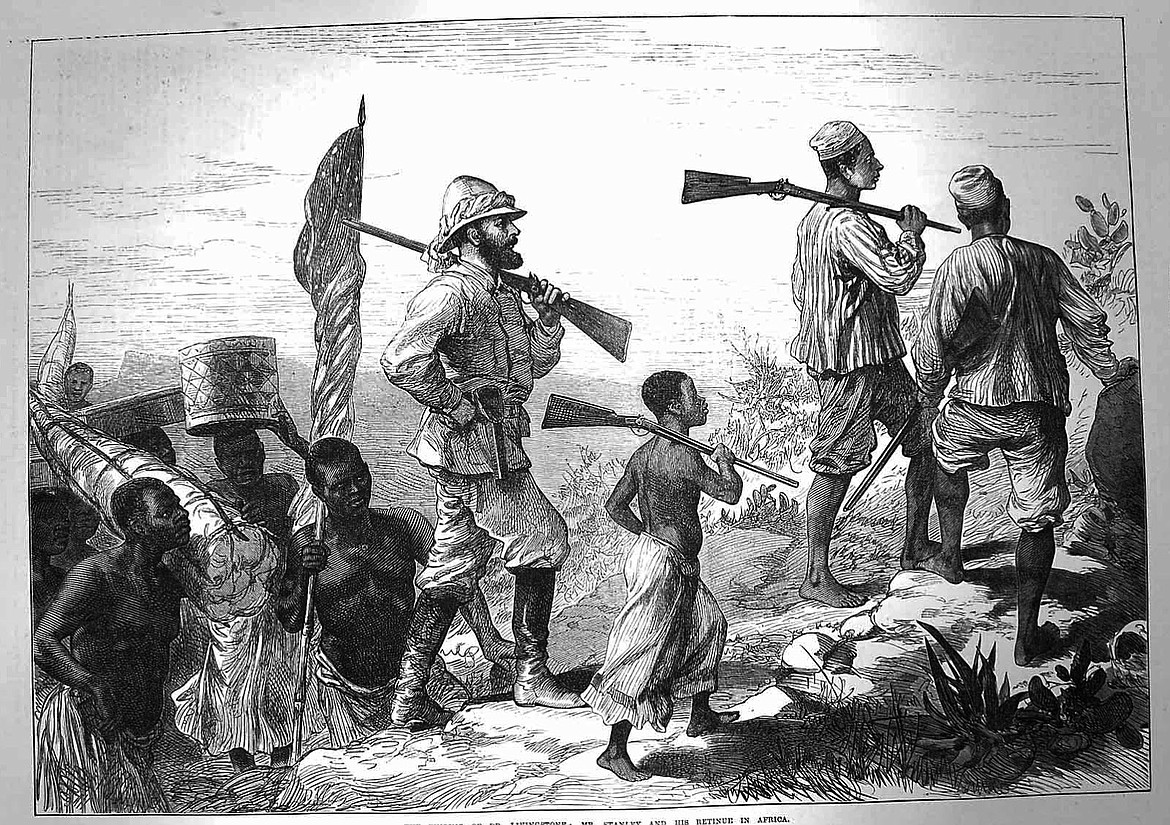 GOOGLE IMAGES Henry Morton Stanley trekked 550 miles to find Dr. David Livingstone in Ujiji on the shores of Lake Tanganyika.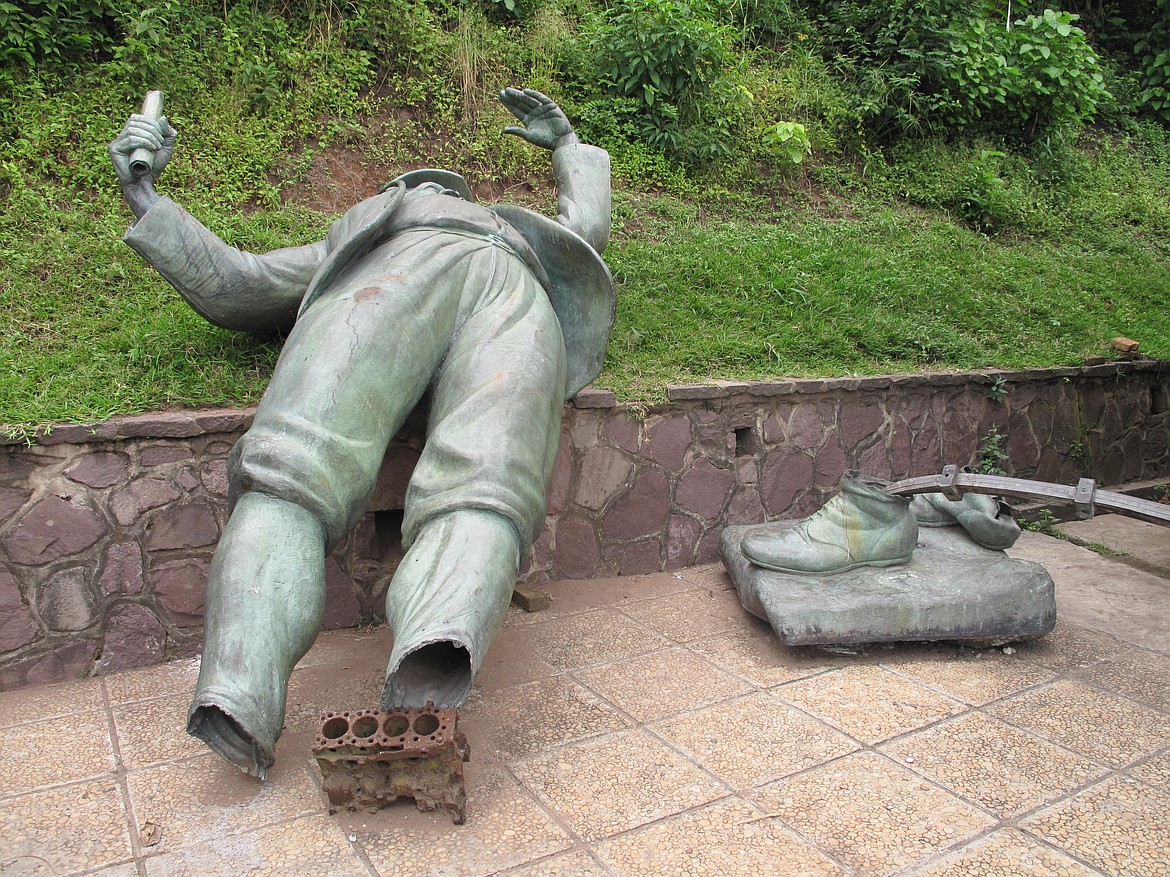 GOOGLE IMAGES Statue in Kinshasa, Congo of British explorer Henry Morton Stanley, who became famous after finding David Livingstone, was desecrated because of cruel conduct while helping Belgium's colonization in Africa.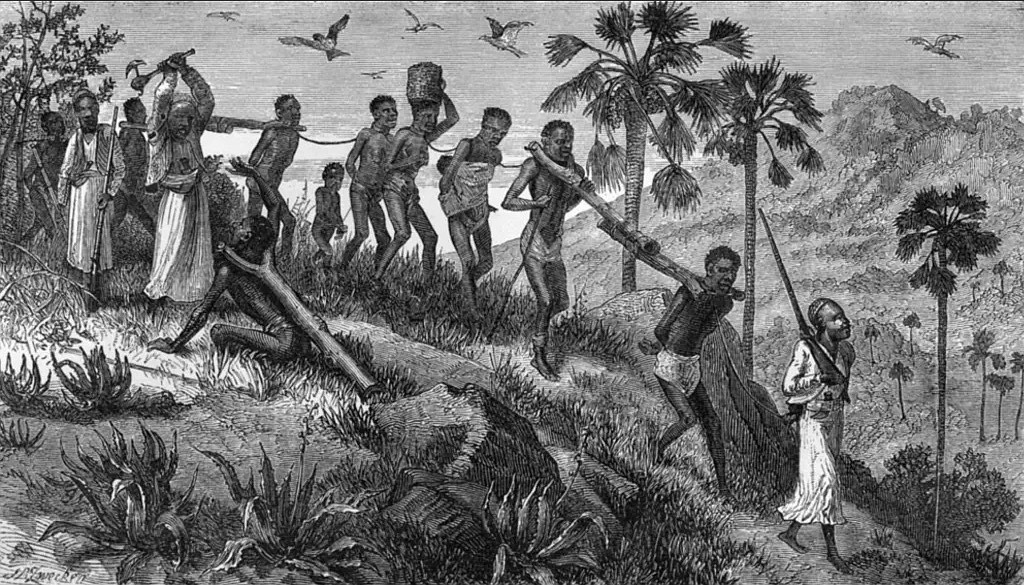 GOOGLE IMAGES David Livingstone fought against slavery, and his son Robert was killed during the American Civil War while serving in the Union Army; Henry Morton Stanley condoned slavery, yet became a famous and highly respected figure in Britain.
Previous
Next
"The strangest disease I have seen in this country seems really to be broken-heartedness, and it attacks free men who have been captured and made slaves…"
— David Livingstone
Anyone who has studied the history of Africa knows about Stanley and Livingstone. They were historic super-stars of the 19th century. Both lived lives of high adventure, brought both light and darkness to the Dark Continent and were showered with glory and praise.
Sub-Sahara Africa in those times was controlled mostly by European powers, with the Portuguese on the west coast in Angola and the east coast with Mozambique. South Africa was under Dutch rule and lands north of Sub-Sahara were dominated by the Arabs.
Few Europeans knew much about the central part of the continent, but the Arabs and cruel tribal chieftains knew that the heart of Africa was a source of slaves and ivory that would make them rich.
David Livingstone, a British missionary, physician and explorer went to Africa and saw the horrors of slavery and fought against it much of his life.
Henry Morton Stanley saw it too after being sent by a New York newspaper to find Livingstone who appeared to have been lost to the outside world for six years.
Later, Stanley would help King Leopold II of Belgium plunder the Congo and make it a colony at the cost of countless lives and brutal slavery.
Though Stanley was born in Wales and Livingstone in Scotland, both had an American connection:
Stanley was a foreign correspondent for the New York Herald and served in both the Confederate and Union armies during the Civil War. Livingstone's son Robert served in the Union Army and was wounded, captured and died in the infamous Salisbury Confederate prison camp in North Carolina.
David Livingstone was born into a Protestant family in 1813 in Blantyre, a mill town in Scotland — one of seven children. At age 10, he started working at a cotton mill to help the family pay their bills and stayed there for nine years.
The boring work at the mill toughened him up for the rigors of life ahead of him, and it also provided schooling, which he relished.
The boy was an avid reader and was particularly keen to understand the relationship between science and religion.
At the University of Glasgow, he studied Greek and theology and learned about the evils of slavery.
Next, he joined the London Missionary Society and went to medical school to become a medical missionary — eventually earning his M.D. and being ordained.
His interest was to serve in China but the First Opium War (1832) made that too dangerous so he decided on Africa.
In South Africa, he began his missionary career and married Mary Moffat, daughter of fellow missionary Robert Moffat. They would have six children.
Throughout the 1840s, Livingstone struggled with being a missionary and only made one convert — a tribal chieftain name Sechele — who was required to renounce all but his most senior wife. He was denied communion after he took back one of the others.
He did better as a physician, learning many skills due to the lack of medical services in an undeveloped land. Those skills included obstetrics, ophthalmology, removal of tumors, tuberculosis, treatment of venereal diseases, malaria and other tropical diseases.
All the while, he held his deep concern of ending the barbaric slave trade, that he so often witnessed with horror. He believed in Victorian imperialism and felt it his duty to bring the Three C's to the "savage people" that would end slavery — Christianity, Civilization and Commerce.
The British had already abolished slavery in most of its colonies in 1834.
Not succeeding as a missionary, Livingstone shifted his interests to exploration in the 1850s and formed an expedition to find trade routes linking Africa's little-known interior with the Atlantic and Indian oceans — hoping that legitimate trade would override the slave trade and end it.
He also wanted to find the source of the Nile.
In 1855, while charting the Zambezi River as a possible waterway trade route, he became the first European to see Victoria Falls, quickly naming it after the Queen. The natives called it Mosi-oa-Tunya, meaning "the waters that thunder."
Also, he was credited the first European to cross south-central Africa at that latitude — though other non-Europeans had done it earlier. Livingstone's success in mapping most of the Zambezi River made him famous and he was hailed for "opening up Africa."
His work revolutionized the cartography of Africa and when he wrote about his adventures in a book, "Missionary Travels and Research in South Africa," published in London (1857), it brought him glory as the leading explorer of those times.
He was invited to meet Queen Victoria and was made a Fellow of the Royal Geographical Society of London and awarded a gold medal.
David Livingstone was a remarkable intellect, but had difficulty dealing with his peers and organized his expeditions poorly. He also regretted spending so little time with his family.
In 1858, the Royal Geographical Society sponsored Livingstone on a second Zambezi expedition to see if the river was a viable trade route to the Indian Ocean. After six years, they concluded it wasn't, due to hazardous river conditions.
Expedition members complained that Livingstone was an inept leader and bad manager. They said he was also secretive, self-righteous, moody and intolerant of criticism. His physician John Kirk said, "I can come to no other conclusion than that Dr. Livingstone is out of his mind and a most unsafe leader."
For six years, the world heard nothing from Livingstone, knowing only that he was somewhere in Africa.
That sparked 28-year-old James Gordon Bennett Jr., editor of the New York Herald to send someone to Africa to find him, hoping to boost the newspaper's circulation. He invited one of his writers to undertake the search. He was Henry Morton Stanley.
Like Livingstone, Stanley was British, born in Denbigh, Wales, in 1841. He was abandoned by his 18-year-old mother and never knew his father who died a few weeks after the boy was born. He was raised by his maternal grandfather and later sent to a workhouse for the poor.
In 1859 at age 18, he sailed to New Orleans and was befriended by a wealthy trader named Henry Hope Stanley, whose name he later adopted. When the Civil War broke out, he joined the Confederate Army, was captured at Shiloh and switched to the Union Army but soon left for health reasons. He later joined the Union Navy, followed by his becoming a journalist.
Stanley had done some notable writing as a foreign correspondent and accepted the assignment of finding Livingstone, telling Bennett, "If alive, you shall hear what he has to say. If dead, I will find him and bring his bones to you."
In 1871, Stanley began his search in Zanzibar, an archipelago off the east coast of Africa, hiring some 200 porters and then headed into the African wilderness. During that time, he contracted dysentery, cerebral malaria and smallpox.
After a harrowing eight-month search, he found Livingstone pale and gaunt living in miserable conditions in the town of Ujiji near Lake Tanganyika.
Carrying an American flag, the expedition approached him and Stanley uttered his famous words, "Doctor Livingstone I presume."
Shaking hands, Livingstone supposedly replied, "Yes, I feel thankful that I am here to welcome you."
Livingstone had been suffering from "anemia, dysentery, bone-eating bacteria, the loss of his teeth, thieving porters and, finally, worst of all, outright poverty — so much so that he now depended upon the Arabs for his food and shelter," according to one report.
Those very Arabs were engaging in the slave trading that Livingstone detested so much.
David Livingstone died on May 1, 1873, at age 60 at the Zambian village of Ilala of malaria and internal bleeding from dysentery.
His loyal attendants Chuma and Susi removed his heart and buried it under an Mvula tree near where he died, and after his body was mummified, they remarkably carried it along with his journal 1,000 miles to the port of Bagamoyo. There it was placed aboard ship and sent to England, and now rests in Westminster Abby.
David Livingstone never found the source of the Nile, but did earn his place in the history books.
• • •
Contact Syd Albright at silverflix@roadrunner.com.
• • •
Livingstone's vision…
"What Livingstone envisaged for 'colonies' was not what we now know as colonial rule, but rather settlements of dedicated Christian Europeans who would live among the people to help them work out ways of living that did not involve slavery."
— Stephen Thompkins, "David Livingstone: The Unexplored Story
Ending slavery…
Britain's Slavery Abolition Act of 1833 abolished slavery in most British colonies, freeing more than 800,000 enslaved Africans in the Caribbean and South Africa and a small number in Canada. The Act took effect the following year. Slavery was officially abolished in the U.S. with approval of the 13th Amendment in 1865.
Honors for Livingstone…
David Livingstone earned his place in history and his memory and achievements were soon honored around the world with statues, memorials and his name given to schools, buildings, organizations and geographic entities. And in 1939, Darryl F. Zanuck produced the movie "Stanley and Livingstone," starring Spencer Tracy as Stanley, with Cedric Hardwicke playing Livingstone.
Stanley after Livingstone…
Long after finding David Livingstone, Henry M. Stanley was commissioned to assist in colonizing the Congo by Belgium's King Leopold II. A British report later cited him with "excessive violence, wanton destruction, the selling of labourers into slavery, the sexual exploitation of native women and the plundering of villages for ivory and canoes." Stanley's story may be told in a future History Corner.
Watch the movie…
See the 1939 movie "Stanley and Livingstone" free on YouTube: https://www.youtube.com/watch?v=ziujp_4B2rk
---