Time-honored way of training on the rebound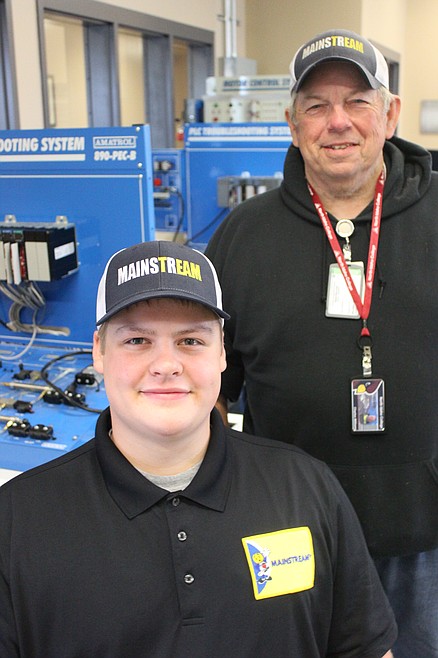 Jessen Day, 20, is pictured in front with Chuck Williams, 70, at a classroom in the North Idaho College Parker Technical Education Center. Day is participating in the NIC Workforce Training Center Apprenticeship program. Williams is an instructor in the program.
Courtesy photos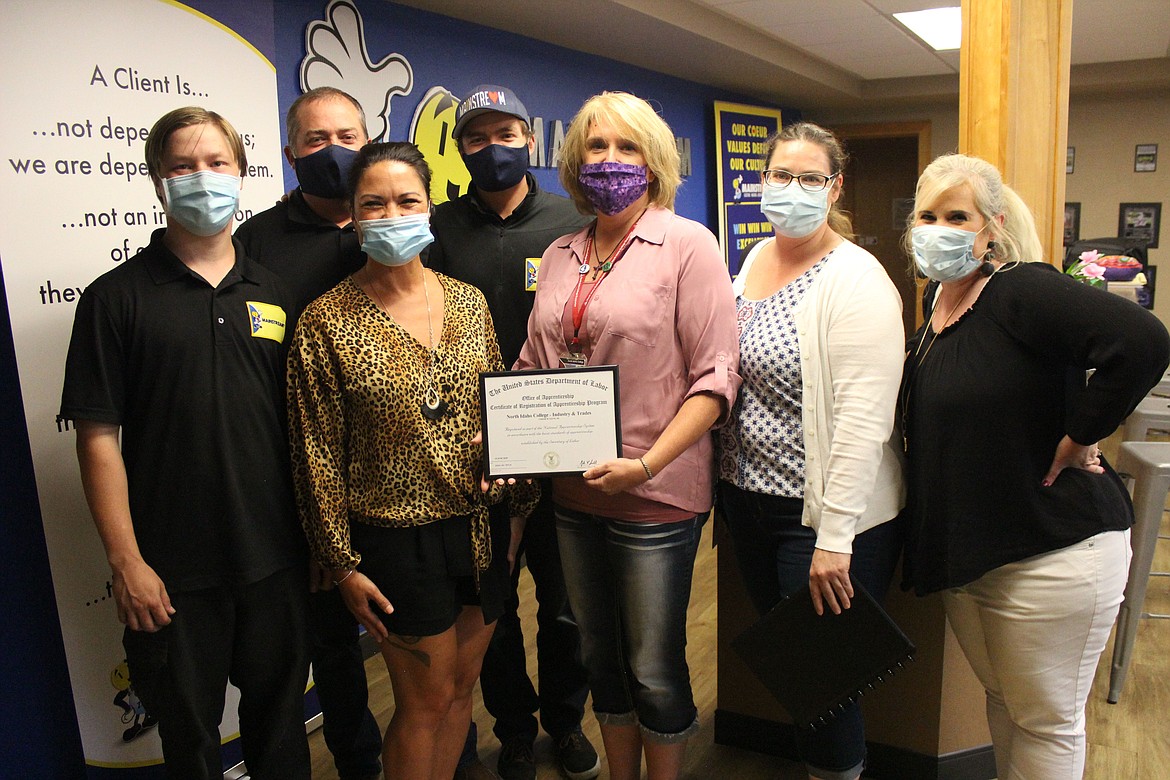 Brenda Hamilton, North Idaho College Workforce Training Center Apprenticeship Program coordinator, is pictured holding a certificate recognizing the program's registration as part of the U.S. Department of Labor's National Apprenticeship System. NIC and Mainstream Electric Heating, Cooling and Plumbing have partnered to offer apprenticeship opportunities. Pictured with Hamilton are, from left: Josh Hedgecoke, second-year electrical apprentice (employed my Mainstream and attending NIC); Mainstream CEO Todd Damschen; Mainstream President Elaine Damschen; Hunter Damschen, fourth-year plumbing ...
Previous
Next
by
Tom Greene
|
July 19, 2020 1:00 AM
The trades are making a comeback.
Jobs in trade industries such as HVAC (heating, ventilation and air conditioning), electrical and plumbing, were in high demand before the coronavirus outbreak. Now, with other industries facing layoffs, furloughs, severe cutbacks and dramatic restructuring, trades could be considered recession-proof.
"It's a great way to make a living," said Chuck Williams, North Idaho College Workforce Training Center Electrical Apprenticeship instructor. "You'll always need to have people who can improve other people's lives by using their hands — their skills."
Williams has been an electrician for more than 30 years after starting this career path when he was 41 years old. He currently works full time at Mainstream Electric Heating, Cooling and Plumbing, in Spokane Valley, where he also teaches in the apprenticeship program that is offered in partnership with NIC. Williams said the problem-solving aspect of his work is what keeps him young.
"The No. 1 skill you need in this job is the ability to make things, figure things out, make things work again," Williams said. "My favorite days are when I don't have a clue about what I'm getting into when I go to a job that day."
This September, Williams will be teaching Jessen Day, 20, of Spokane Valley, who is just beginning his apprenticeship. Day grew up in a family that was in the construction industry. He said he knew early on he wanted to work in trades.
"I was the kid who they'd give me a toy and it'd be destroyed in a week because I wanted to see how it worked," Day said. "When I was little, electricity just seemed like magic."
The NIC program allows apprentices to take classes on their schedule — nights, weekends and online — while they gain on-the-job experience. They typically work 40 hours a week, pulling a regular paycheck, until the end of four years when they are eligible to take the test to become a skilled journeyman in their chosen trade. The academic hours they earn during the apprenticeship also convert into an associate's degree from NIC.
The NIC Workforce Training Center collaborates with several employers in the area, such as Mainstream, to offer the apprenticeship program. Grant money is available from the Idaho Department of Labor for employers, apprentices and NIC. Employers and NIC receive money for running the program and apprentices can receive money for equipment needs. Apprentices are also eligible for scholarships through NIC and the license they earn is a federal license that is valid all over the country.
For Williams, and now Day, the apprenticeship program is more than just a job. It's more than continued education.
"It's my entire life," Williams said, adding that at 70 years old, he has no plans on retiring. That option is financially available to him, but he's not ready for that life yet, he said. He's still having fun.
"This is what I do," Williams said.
For more information on the NIC apprenticeship, as either a prospective apprentice or employer who would like to participate, visit www.nic.edu/apprenticeship or call Brenda Hamilton at 208-769-7735.
• • •
• Demand for electricians predicted to grow 10 percent by 2028 faster than national average
• Demand for HVAC mechanics and installers predicted to grow 13 percent by 2028 faster than national average
• Demand for plumbers is expected to grow 14 percent by 2028 faster than national average
— U.S. Bureau of Labor Statistics, 2020, www.bls.gov/ooh/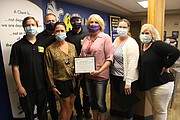 ---