California Gold Rush miner from Mexico Joaquin Murrieta avenged death of family, then turned bandit and killer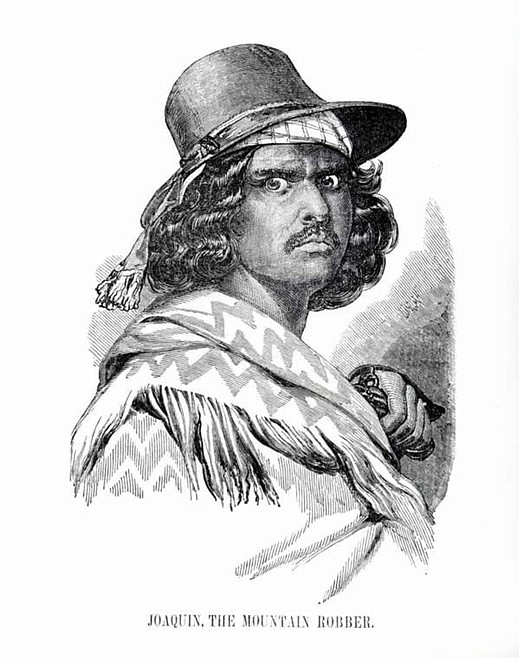 Portrait by THOMAS ARMSTRONG/Wikimedia Commons Mexican outlaw Joaquin Murrieta from California (circa 1851).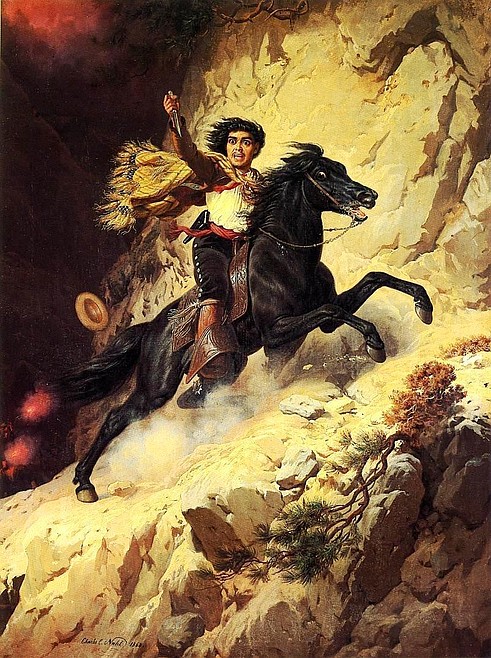 Some considered Joaquin Murrieta a "Robin Hood," and others one of California's most vicious outlaws. Painting of Joaquin Murrieta by German artist CHARLES NAHL (1818-1878)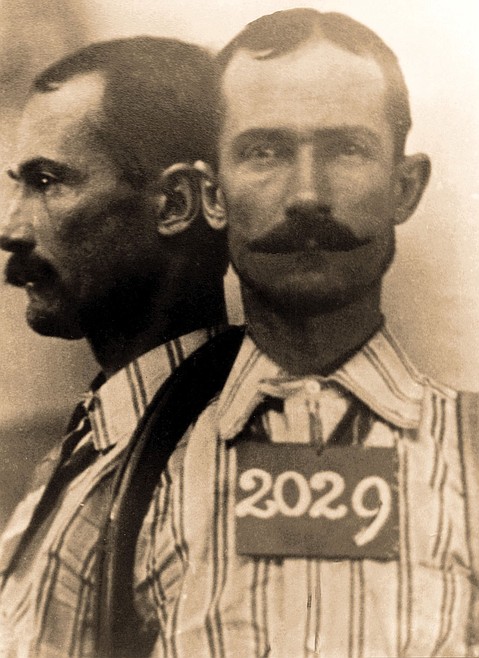 GOOGLE IMAGESManual Garcia, also called "Three-Fingered Jack, was probably the most vicious member of Joaquin Murrieta's gang, delighting in torturing and killing Chinese working the gold fields.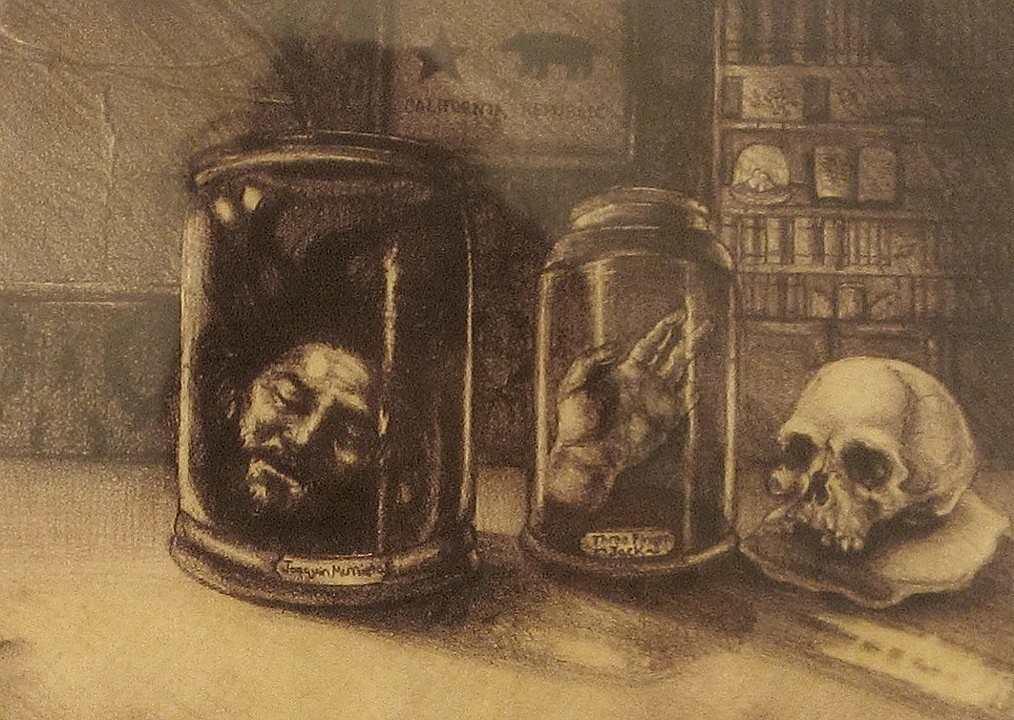 GOOGLE IMAGES Lawmen that captured and killed the notorious California outlaws kept the head of Joaquin Murrieta and the hand of Manual "Three-Fingered Jack" Garcia as evidence that the culprits were caught and dealt with.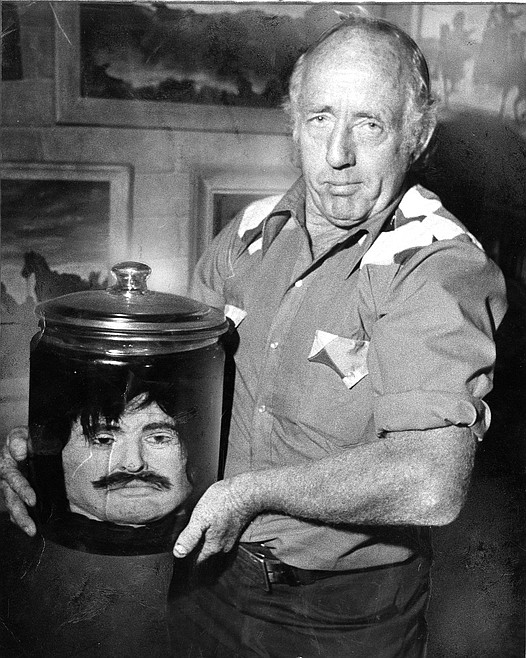 Photo by PETER BRINIG/SAN FRANCISCO CHRONICLE Walter Johnson holding a jar, supposedly containing the head of outlaw Joaquin Murrieta (1980).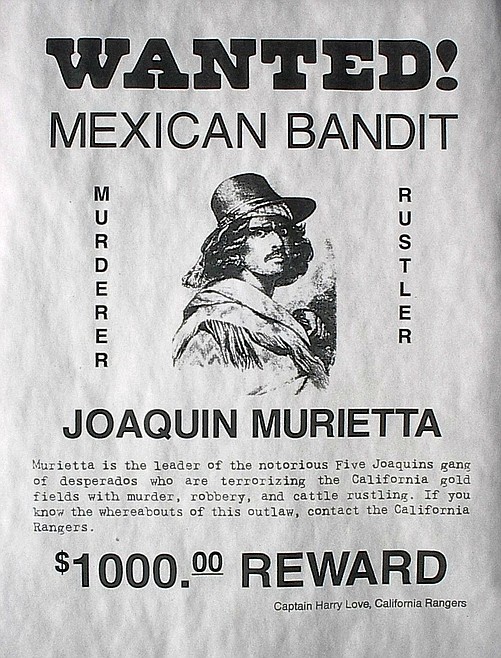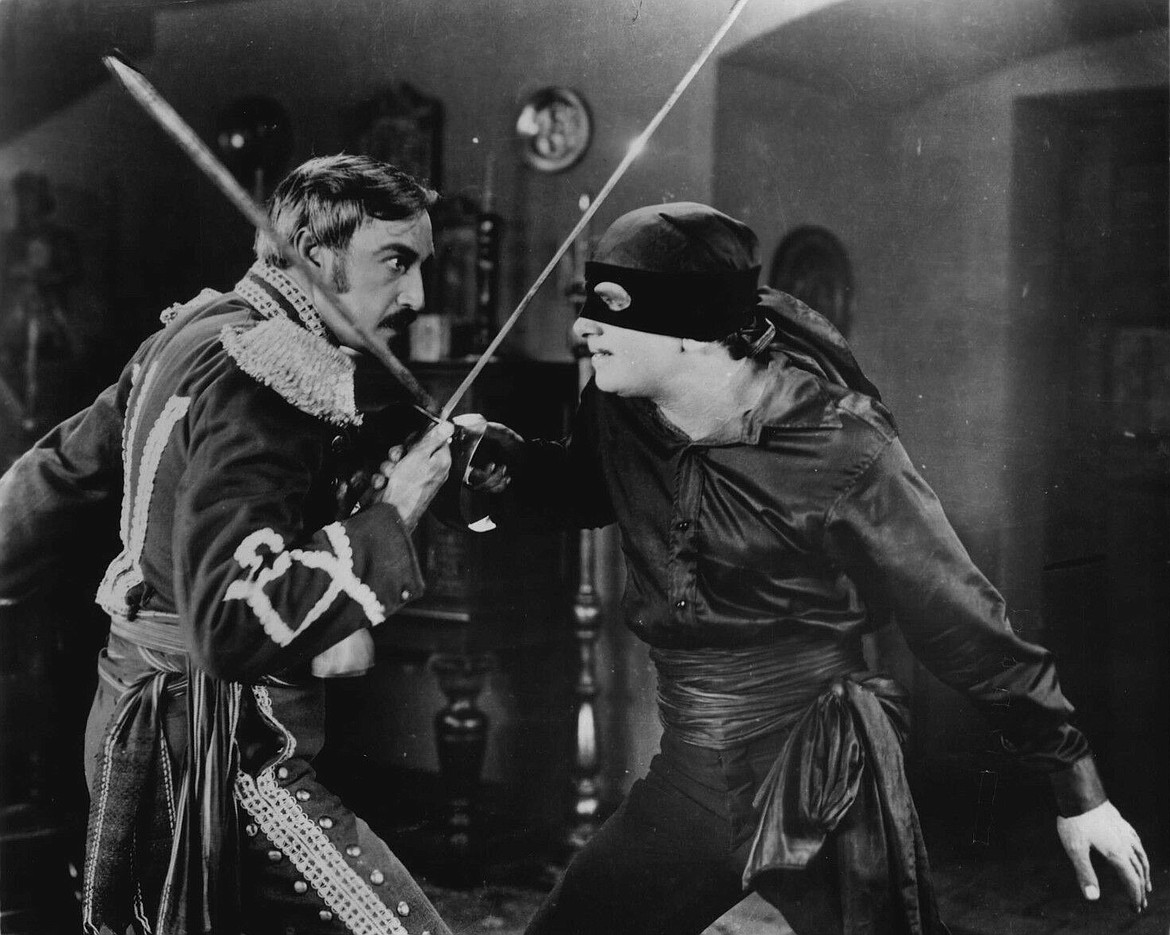 PUBLIC DOMAIN Douglas Fairbanks as Zorro in 1920 silent film, the character possibly adapted from Joaquin Murrieta.
Previous
Next
|
November 24, 2019 12:00 AM
During California's 1849 Gold Rush, Joaquin Murrieta came from Mexico to try his luck, only to turn from being another miner hoping to strike it rich and live peacefully, but that all changed on one tragic day in 1853.
A great deal of research has been done about him, but Murrieta's life still leaves more unanswered questions in the twilight between fact and fiction. We're still not even sure exactly where he was born. Was it Sonora, Mexico, or Quillota, Chile?
One thing is certain — he was an outlaw who put together a criminal band called The Five Joaquins and terrorized California from north to south during the Gold Rush Days.
Yet, there are multiple accounts that paint him as a Mexican patriot that resented the incursion of Anglo-Americans into Californio. That may be so, but there is little evidence that he did much about changing that.
There's a great deal of evidence that he was a man filled with hatred — enough that he'd rob miners and stagecoaches, steal and kill like it was fun — a schadenfreude sort of complex.
Then he'd unexpectedly show a kindlier side by rewarding those who did him a favor — and that may be why for some he has a Robin Hood image.
But Joaquin Murrieta was no Robin Hood.
He was a vicious killer and cared little who his victims were. In the Sierra Nevada gold fields, he terrorized the Chinese who had escaped to America from abject poverty in China — often leaving their families behind — hoping to make enough money to return home rich. Sadly, few made it.
America in those days greeted the Chinese with harsh discrimination, even though they were hard workers that helped build the nation — especially working on the railroads.
Keeping to themselves mostly because few could speak English, they also sought to avoid attention and violence. But that didn't deter the Murrieta bandits from descending on them — murdering 28.
Murrieta's gang included Joaquin Botellier, Joaquin Carrillo, Joaquin Ocomorenia, Joaquin Valenzuela and Manual Garcia, Murrieta's right-hand man also known as "Three-Fingered Jack."
Many were relatives.
The gang stole at least a hundred horses, more than $100,000 in gold (1850s value) and killed 19 men — including three lawmen chasing them.
Nothing Robin Hood about that.
While all this mayhem was going on, no one really knew who the leader was, because there were at least five "Joaquin" bandits roaming the area.
Determined to bring an end to the rampage, California Gov. John Bigler signed an act establishing the "California State Rangers," modeled after the Texas Rangers.
He put Former Los Angeles County Deputy Sheriff and Texas Ranger Harry Love in charge of the new lawmen. They were paid $150 per month, and told to go after the Murrieta gang.
A $6,000 reward was posted to anyone who brought Murrieta in — "Dead or Alive."
Murrieta's band may have been supported by the Californios — elite Mexican property owners in California — and possibly some non-Hispanics like Englishman Robert Livermore from Essex who became a Mexican citizen in California and a prosperous land grant holder east of San Francisco Bay.
For weeks, Love and 20 rangers searched the Calaveras County countryside without success.
Then they captured Murrieta's brother-in-law and forced him to take them to where the gang was hiding out.
He led them to Cantúa Creek in San Benito County, 50 miles east of Monterey, an area first explored by José de Guadalupe Cantúa (1786–1860) who served in the Spanish army.
Cantúa had two sons, Lupe and Domingo, who had established a ranch on the Arroyo Cantúa.
Both were members of Murrieta's gang.
Early on the morning of July 25, 1853, the rangers made a surprise attack on the outlaw camp and a gunfight ensued. Murrieta attempted to escape but was stopped when his horse was shot in the leg. Then Ranger Harry Love shot and killed his quarry. Eight of the bandits were killed, including Three-Fingered Jack.
Two others were captured.
To get the reward, the rangers had to prove they'd killed Murrieta, so they cut off Murrieta's head and for good measure, Three-Fingered Jack's hand — preserving the grizzly parts in a brandy vat (or jar) filled with whisky.
At first, authorities refused to believe the parts belonged to the bandits. Some even claimed that the Rangers murdered some innocent Mexican traveler to get the reward money.
A young woman claiming to be Joaquin's sister said the head was not her brother's because it was missing a scar he had.
Others said they'd seen him alive in parts of California after the time he was killed.
But Ranger Love rounded up 17 witnesses who testified otherwise, including a priest who authenticated the severed head as Murrieta's.
The rangers were paid the $6,000 reward.
Jack's fingers decayed and were destroyed, but Murrieta's head was shown throughout California — for a fee of $1.
Accounts say they ended up in a museum in San Francisco and were lost in the great earthquake of 1906. But another report says that the museum wasn't destroyed in the quake and that Murrieta's head may still be out there — somewhere.
But another story blurring the line between fact and fiction in the Murrieta saga says that for years, Murrieta's head was displayed behind the bar in the Golden Nugget Saloon in San Francisco and destroyed in the 1906 earthquake.
What made Joaquin Murrieta the monster that he was, whose glaring eyes "are said to have been dark blue, with a keen restless glance and when excited, a glare of ferocity like that of an infuriated tiger."
Dime novels and books about him appeared quickly after his death — Murrieta was on his way to becoming legend.
Copycat versions portrayed him as not only an outlaw, but also a Robin Hood, or a rebel leader protecting down-trodden Mexicans in California being over-run by Anglos who didn't like them.
Twice, Joaquin Murrieta was chased off his mining claim by anti-Mexican whites.
Historian Susan Lee Johnson said, "So many tales have grown up around Murrieta that it is hard to disentangle the fabulous from the factual. There seems to be a consensus that Anglos drove him from a rich mining claim, and that, in rapid succession, his wife Rosita was raped (some say she was killed), his half-brother lynched, and Murrieta himself horse-whipped. He may have worked as a monte dealer for a time; then, according to whichever version one accepts, he became either a horse trader and occasional horse thief, or a bandit."
Murrieta was never the same after those atrocities that ended with him being falsely accused of stealing a horse, then tied to the hanging tree and given 39 lashes.
"The soul of the injured, man grew dark," John R. Ridge wrote in his 1871 book, The adventures of Joaquin Murrieta, the celebrated California bandit. "He was no more the genial, generous, open-hearted Murrieta, as of yore. He walked apart in moody silence, avoided all intercourse with Americans."
Then he formed his outlaw gang and began his revenge.
"An American was found dead in the vicinity of Murphy's Diggings, having been almost literally cut to pieces with a knife," Ridge wrote. "Although horribly mangled, he was recognized as one of the mob engaged in the whipping of Joaquin and the hanging of his brother."
Then more bodies of the assailants were found.
About 25 years after all this happened, Joaquin Murrieta's nephew, Procopio Murietta — different spelling — (c.1841 — 1882 to early 1890s), also known as "Red-Handed bebito," or a half dozen other aliases and nicknames, followed in his footsteps.
His mother was Murrieta's sister. After Procopio's father was killed by Indians, Murrieta moved him and his mother to California. He is believed to have been a witness to his uncle's hanging — possibly sparking the flames of hatred that drove him into a life of crime.
He became a cattle rustler, was locked up twice in San Quentin, accused of murder but never convicted, escaped from lawmen with the help of California Mexicans.
And yet, newspapers likened him to Robin Hood.
In 1872, the San Francisco Chronicle called him "one of the most fearless and daring desperadoes that has ever figured in the criminal annals of our state."
But that's another story …
- • •
Contact Syd Albright at silverflix@roadrunner.com.
- • •
Californios…
"Californios, technically, the Spanish-speaking residents of Alta California during the Spanish and Mexican era (1769–1848). More commonly the term referred to the property-holding elite, the 500 families who were given land grants during this period, including the most politically prominent families: the Bandinis, Carrillos, Picos, de la Guerras, Vallejos, Coronels, Castros, Alvarados, and others. Together they enjoyed economic and political dominance during the Mexican era (1821–1848). Among their numbers were a few Americans who had married into Californio families, such as Abel Stearns (early L.A. landowner and developer) and John T. Warner, (1840 Mexican land grant recipient in San Diego County).
— Encyclopedia.com
Adding to the confusion…
Rollin Ridge, grandson of Cherokee Major Ridge wrote a dime novel about Joaquin Murrieta that helped build the outlaw's legend, and in 1858, parts of the story were printed in the California Police Gazette. The book was also published in French and Spanish. The Spanish version calls Murrieta a "Chilean."
Joaquin and Zorro on the big screen…
The legend of Joaquin Murrieta has been the theme of many books and articles. Starting in 1919, he has been portrayed in 40 big screen movies and 10 TV series. In the 1998 film "The Mask of Zorro" starring Antonio Banderas as Zorro, the character Murrieta, played by Victor Rivers, is killed by Captain Harrison Love, the fictionalized Captain Harry Love, played by Matt Letscher. More adaptations are sure to come.
Averting a deadly scam…
When the California Legislature authorized a large reward for the capture of Joaquin Murrieta, they were concerned that bounty hunters might kill a random Mexican and claim it was Murrieta, then claim the reward that started out as $1,000, but was increased by another $5,000. To prevent that, the California Rangers was organized to track down the outlaw and his gang.
Another version of the Murrieta story…
There are at least five versions of the end of Joaquin Murrieta. Another one says the severed head presented by the California Rangers in order to collect the reward money was from an innocent Mexican but said to be Murrieta's. Hearing this, the outlaw's gang took off for Mexico and lived there comfortably for the rest of their lives on the gold and other loot they had plundered.
- • •
'Look for History Popcorn every Wednesday brought to you by Ziggy's.'
- • •
Invitation to readers…
Everyone has a story. Press readers are invited to submit their Community History Popcorn stories ("Tasty little morsels of personal history") for possible publication. Keep them 600 words or less. The stories may be edited if required. Submission of stories automatically grants permission to publish. Send to Syd Albright at silverflix@roadrunner.com.
Recent Headlines
---