Could today's young women survive the 1800s American West?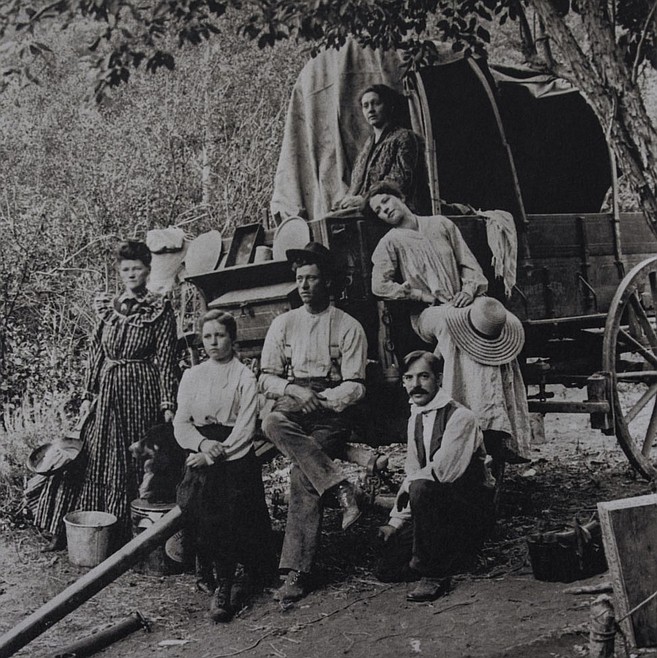 PUBLIC DOMAIN Family resting while heading west on Oregon Trail.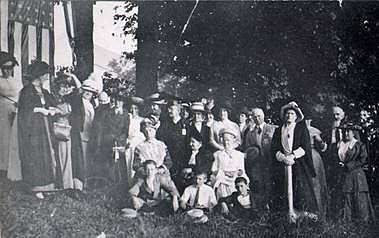 OREGON ENCYCLOPEDIA Suffragettes campaigning in Oregon in 1914.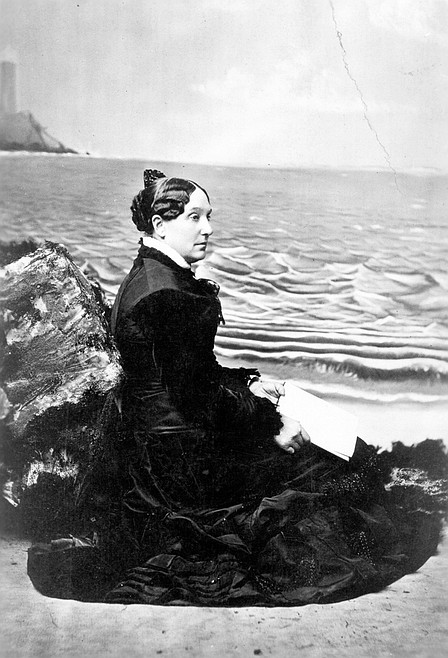 OREGON HISTORICAL SOCIETY RESEARCH LIBRARY Suffragette Abigail Scott Duniway fought to bring women's right to vote to Idaho, Washington and Oregon.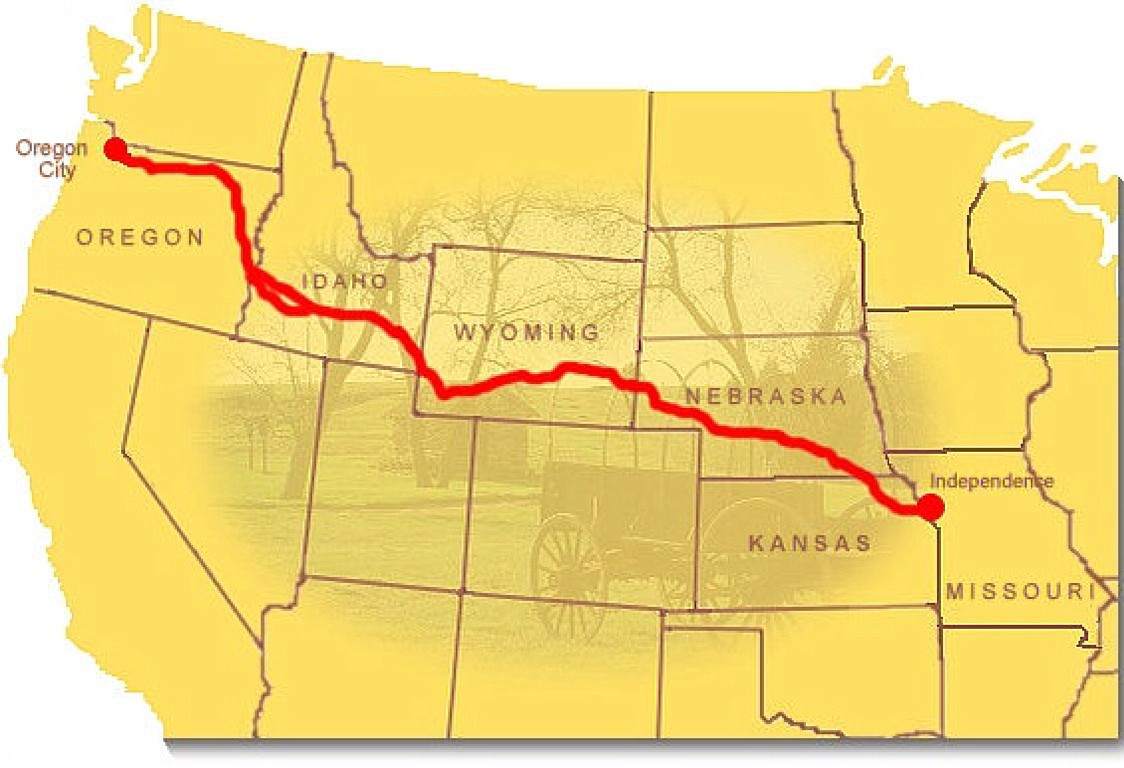 GOOGLE IMAGES Oregon Trail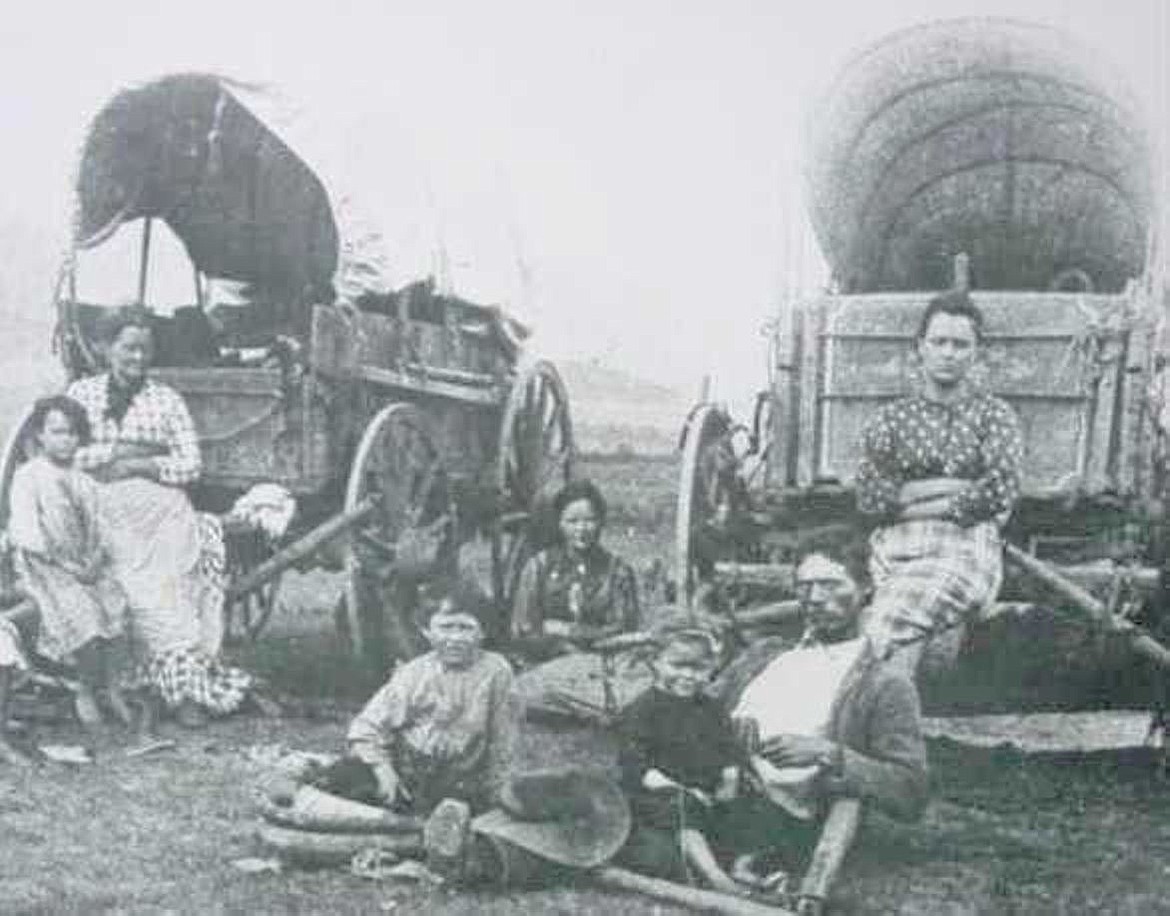 PUBLIC DOMAIN Family heading west to a new life.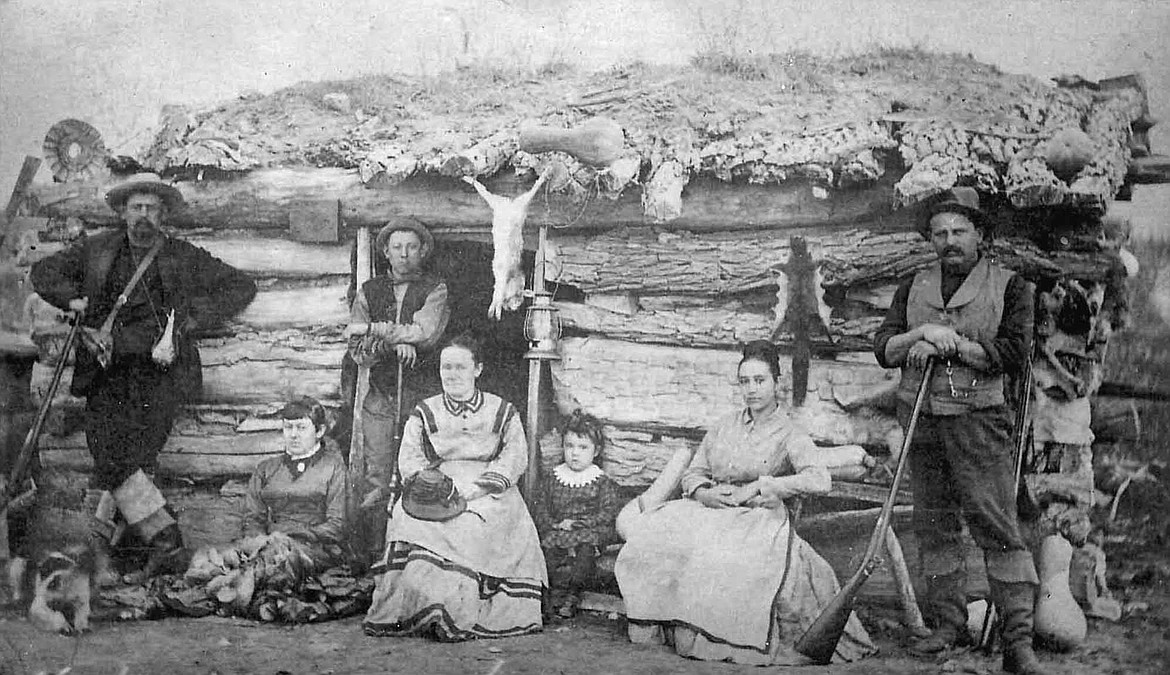 PUBLIC DOMAIN No luxuries for settlers in the early Northwest.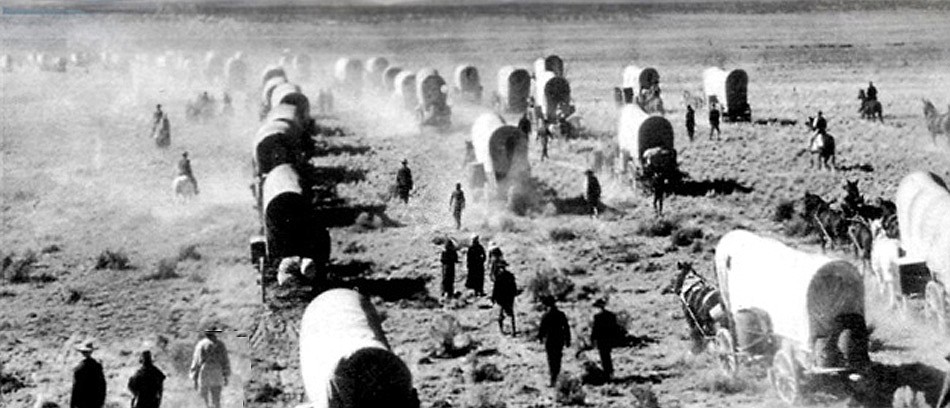 PUBLIC DOMAIN Heading west on the Oregon Trail from Missouri.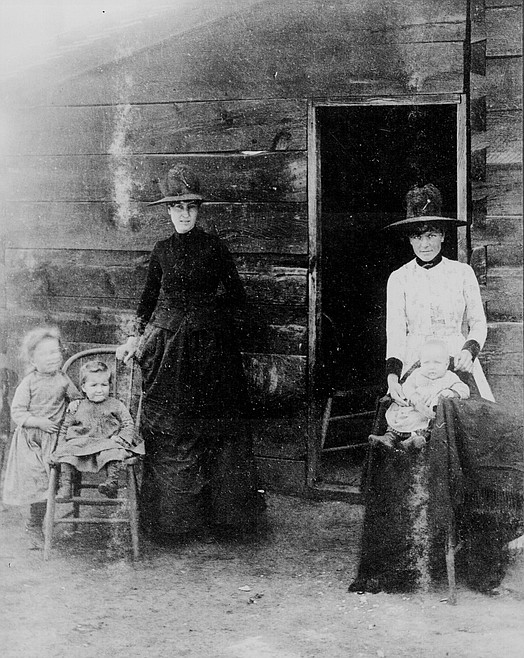 NATIONAL ARCHIVES Mormon settler women at dairy.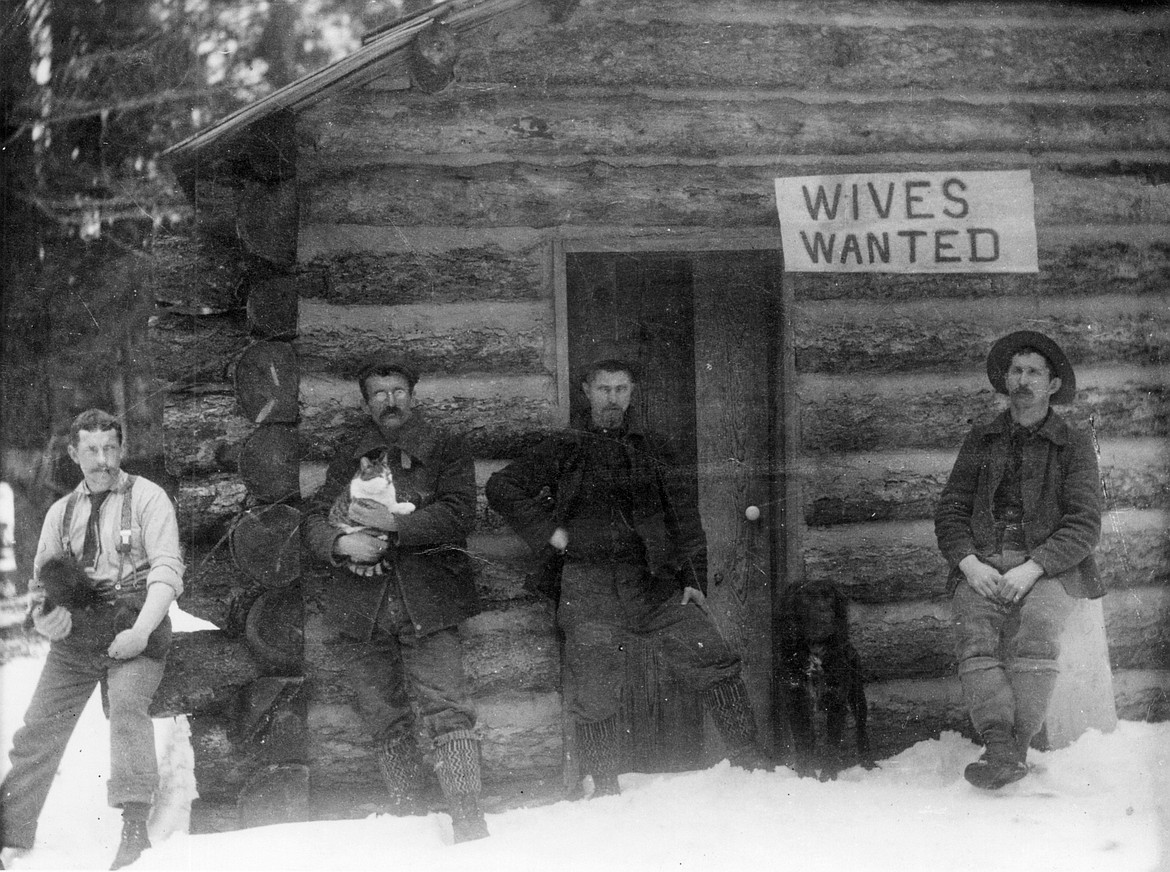 GLACIER NATIONAL PARK ARCHIVES Men far outnumbered women in the early American West, even as late as 1901 when this photo was taken in Montana.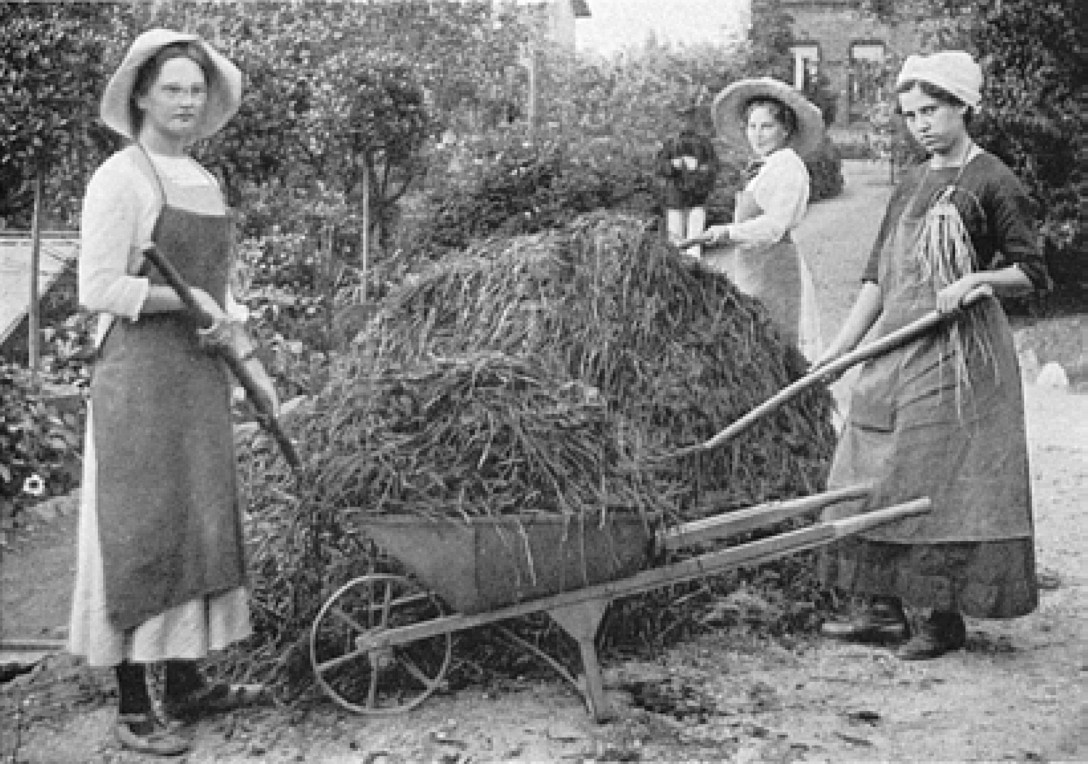 PINSDADDY In the early American West, women by necessity often did man's work as well.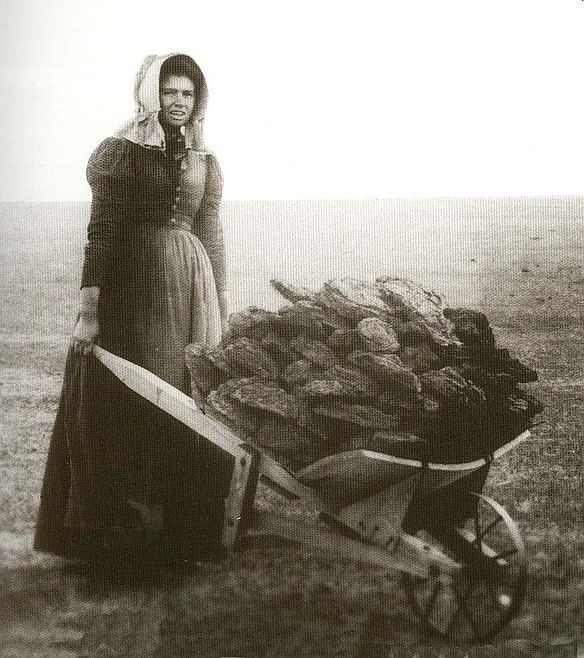 GOOGLE IMAGES Emigrants on the Oregon Trail learned that dried "buffalo chips" made good fire fuel for cooking meals.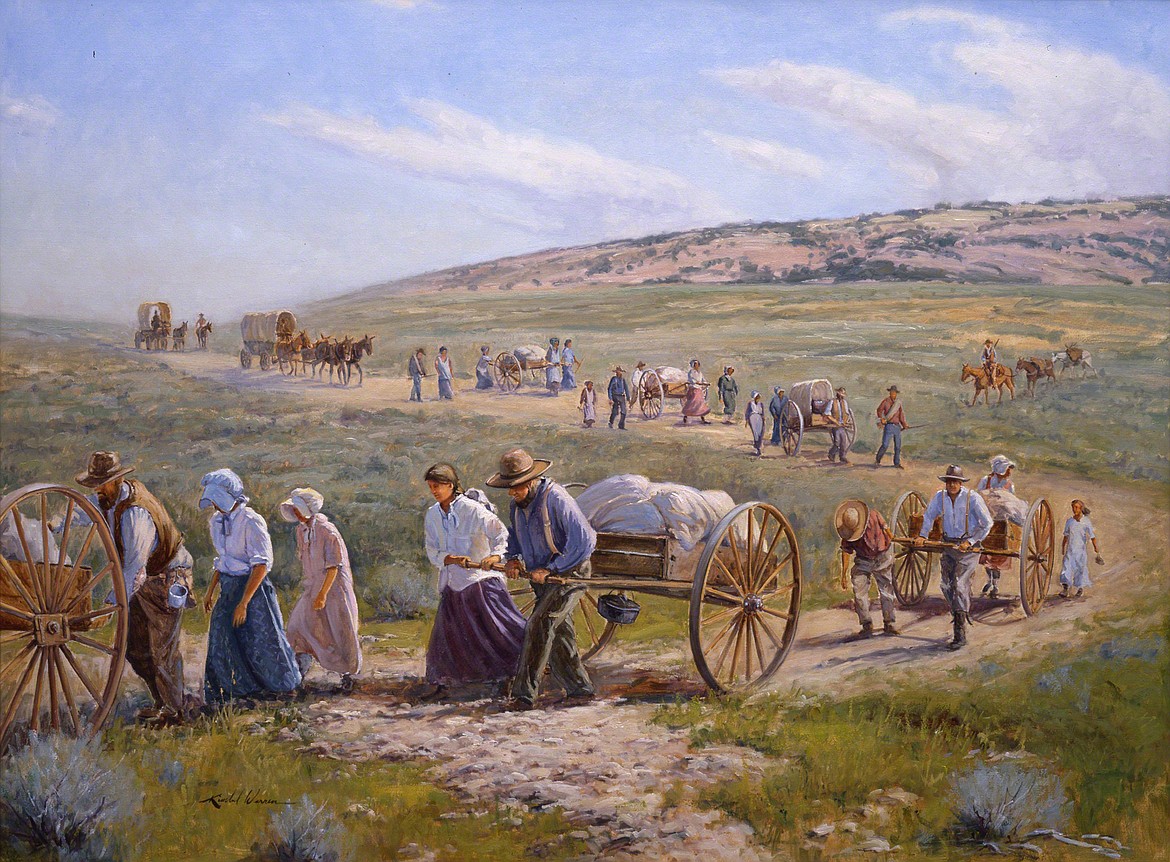 Painting by E. KIMBALL WARREN Mormon settlers heading west near South Pass, Wyo.
Previous
Next
"I would make a brave effort to be cheerful and patient until the camp work was done. Then starting out ahead of the team and my men folks, when I thought I had gone beyond hearing distance, I would throw myself down on the unfriendly desert and give way like a child to sobs and tears, wishing myself back home with my friends and chiding myself for consenting to take this wild goose chase."
That's what Lavina Porter wrote in her diary some 150 years ago heading west on the Oregon Trail.
Women played a huge role in settling the early West. Everyone endured hardships, and many were sorry they decided to head west, but others were excited about a new life.
"The saddest parting of all was when my mother took leave of her aged and sorrowing mother, knowing full well that they would never meet again on Earth," wrote Martha Gay Masterson, age 13 in 1851.
Elizabeth Wood happily wrote, "I have a great desire to see Oregon; the beautiful scenery, the wild animals and Indians and natural curiosities in abundance."
Remembering the Fourth of July she wrote, "For your amusement, I will give you a description of my dress for the occasion, a red calico frock, made in the wagons, a pair of moccasins made of black buffalo hide ornamented with silk instead of beads as I had none of the latter. And a hat braided with bull rushes and trimmed with white, red and pink ribbon."
Wagon trains typically were fairly small with about 50 people. Though larger trains provided more safety against marauding Indians, they were harder to manage and increased the possibility of problems.
The year 1852 was one of the worst on the Oregon Trail, when cholera took the lives of many emigrants, while possible anthrax killed cattle. Out of 10,000 emigrants who dreamed of a new life that year, about a thousand became discouraged and turned back — or changed their minds about Oregon and went to California instead.
After leaving family and friends behind, there'd emerge a "we're all in this together" spirit on the trail:
In 1852, Margaret W. Inman wrote, "I carried a little motherless babe five hundred miles and when we would camp I would go from camp to camp in search of some good, kind, motherly woman to let it nurse. And no one ever refused when I presented it to them."
And 13-year old Martha Ann Morrison wrote, "Mothers on the trail had to undergo more trial and suffering than anybody else."
There were an untold number of graves along the pioneer trails, with few having tombstones because the likelihood of anyone returning to the site was virtually zero.
Catherine Sagle Pringle was only 9 in 1844 when she wrote, "The tent was set up, the corpse laid out, and the next morning we took the last look at our mother's face. The grave was near the road; willow brush was laid in the bottom and covered the body, the earth filled in — then the train moved on. Her name was cut on a headboard, and that was all that could be done. So in twenty-six days we became orphans. Seven children of us, the oldest fourteen and the youngest a babe."
How did those early travelers heading west cope?
Ten-year-old Elvina Apperson Fellows wrote, "We came…over the Cascade by the newly opened Barlow route, and it was a fierce route. The oldest child…had died before we started, and father died on the way across the plains, so when we reached Portland our family consisted of my mother and nine children…Mother had no money and had nine hungry mouths to feed in addition to her own, so she would go to the ships that came and get washing to do."
In the countryside, many women in addition to raising the kids and keeping house, plowed the fields with four-legged powered equipment, built fences, dug wells, milked cows, and slaughtered the chickens for supper.
In towns, they worked as domestic servants, school teachers, shopkeepers and boarding house workers. One report said, "Others entered into the male-dominated fields of law, medicine, science, art, and journalism. There were successful female prospectors who owned mining companies, and women who earned national reputations for their skills as sharpshooters, such as Annie Oakley, and hell-raisers, such as Calamity Jane."
By 1890, there were more women in the workforce in the West than in the East.
Also making a difference in the West were the suffragettes fighting for women's voting rights.
In those days, many men — and some women — strongly opposed women's right to vote because they "believed that women were not suited by circumstance or temperament for the vote," according to one report. Their place was at home taking care of the house, husband and kids.
Many priests and pastors also believed giving women voting rights would disrupt family life, and politicians feared women would vote them out. Companies like textiles, breweries, liquor and mines were afraid women would support legislation against them.
All of that was swept aside when the social warriors in skirts went to war.
In the Northwest, that included Abigail Scott Duniway in Idaho, Susan B. Anthony and Abigail Scott Duniway in Washington and Oregon, Jeannette Rankin in Montana, Louisa Ann Swain in Wyoming, and in Utah, the LDS Church fought the federal Edmunds-Tucker Act of 1887 that disallowed women voting.
In Nevada in 1914, Margaret Lillian Foley dressed in coat and trousers like a miner and talked to more than 20,000 men. She even went 2,500 feet underground in Virginia City to give a speech. Nevada women won the vote that year.
By the late 1800s, the first four states allowing women to vote were in the West: Wyoming (1890), Colorado (1893), Utah (1895) and Idaho (1896) — followed by Washington (1910) and California (1911).
What men did to help women in the early West depended on the man.
"For their part, men were reluctant to do anything that might be considered 'women's work,' though where, exactly, the line was drawn varied from one marriage to another," Esther M. Lockhart wrote.
"When the first Saturday came round, I prepared to do some of my family laundry work. My husband… carried water… filled the wash-boiler and placed it over the open fire for me. Mrs. Norton was a deeply interested spectator… and remarked rather sadly, 'The Yankee men are so good to their wives; they help 'em so much.'
"After that, I frequently noticed Mr. Norton's way of 'helping' his wife. He would stroll in leisurely, after his work of his lounging was over, look around critically, peer into the water bucket, and would then call out loudly, in a tone that brooked no delay, 'Mary Jane, I want some water! This bucket's empty!"
"And poor Mary Jane, weary and uncomplaining, would stop her dinner getting or put down her fretful baby and run… to the spring to 'fetch' water for her husband. Yet her husband was not unkind to her. It was just his way."
Most women in the 19th century stayed home and served the family as wives and mothers, didn't work at jobs outside the home, go to college or pursue a professional career — but there were plenty of exceptions.
Stay-at-home moms in the 1800s taught their children skills like cooking, knitting, crocheting, manners, etiquette, handwriting, setting a dinner table, and showing respect to elders and parents.
Commenting on the role of mothers today, Huffington Post's Samantha Johnson wrote, "We need to teach young people the skills they need to succeed — not only in the workforce, but in the home as well.
"We need to teach them how to care for children, how to cook, how to clean and organize, how to manage household budgets and administration."
Emeline T. Fuller echoed the happiness that most emigrants felt about their new home in the West:
"When the snow was three or four feet deep in Wisconsin, I picked wild flowers in Oregon! Everything around me, so far as nature was concerned, was charming to behold…"
We owe a lot to those hardy and courageous pioneer women — and their menfolk — who braved the dangers, suffered the hardships, survived, and then helped build a new America.
• • •?
Contact Syd Albright at silverflix@roadrunner.com.
• • •
"The young women of today, free to study, to speak, to write, to choose their occupation, should remember that every inch of this freedom was bought for them at a great price. It is for them to show their gratitude by helping onward the reforms of their own times, by spreading the light of freedom and of truth still wider. The debt that each generation owes to the past it must pay to the future."
— Abigail Scott Duniway, suffragette (1834-1915)
Old skills in a modern world…
Jerene Kindley of Post Falls and her Quilts of Valor Foundation team of 14 women make magnificent detailed hand-made quilts that are presented to military veterans in appreciation for their service.
Using modern sewing machines and old-time needle-and-thread skills, the women spend about 100 hours of free labor and $300 for material on each quilt.
New members to the quilting team are welcome. Financial support and fabric donations are much appreciated. For more information, call Jerene at (208) 777-0474.
Promoting teaching home-making skills…
"We are teaching our young people that there is no value in motherhood and that homemaking is an outdated, misogynistic concept. We do this through the promotion of professional progression as a marker of success, while completely devaluing the contribution of parents in the home.
"We then wonder why, when these girls become women who turn into mothers, they suffer from depression, anxiety and struggle to find a sense of self or identity. Are we truly helping women get ahead, or are we instead setting them up for a future of self-doubt and a sense of failure?"
— Samantha Johnson, Huffington Post
Woman's work on Oregon Trail…
"I hung out what things were wet in the wagon, made griddle cakes, stewed berries, and made tea for supper. After that was over, made two loaves of bread, stewed a pan of apples, prepared potatoes, and meat for breakfast, and mended a pair of pants."
— Charlotte Stearns Pengra (1853)
Facing the dangers…
"Those who crossed the plains…never forgot the ungratified thirst, the intense heat and bitter cold, the craving hunger and utter physical exhaustion of the trail…But there was another side. True they had suffered, but the satisfaction of deeds accomplished and difficulties overcome more than compensated and made the overland passage a thing never to be forgotten."
— Unknown Oregon Trail emigrant
The Suffragettes…
"Alcoholism was wide-spread in a society lacking in social hygiene, medical therapy, and any kind of welfare intervention, and whose recreational facilities were non-existent except for the well-to-do.
"A combination of idleness, boredom, and misfortune could make a man the bane instead of the mainstay of his family, while his wife would have no legal redress.
"Later suffragists…were temperance crusaders before they were abolitionists, before they were suffragists."
— Janet Wise, "Punishing Eve"
Abigail said it…
"When women's true history shall have been written, her part in the up-building of this nation will astound the world."
— Abigail Scott Duniway, suffragette
Recent Headlines
---