New posts listed for bishops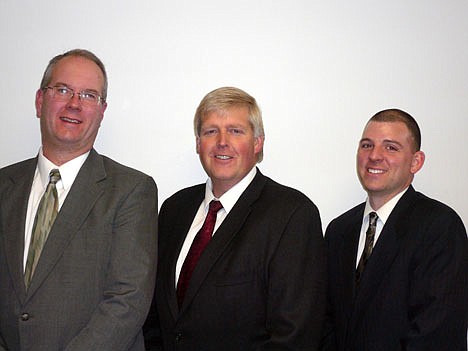 <p>Kirk Steinberg, from left, Jon Verkist and Ben Glass have been appointed to new posts in the Coeur d'Alene 1st Ward for the Church of Jesus Christ of Latter-day Saints.</p>
|
November 26, 2010 8:00 PM
Bishop Jonathon E. Verkist has recently reorganized the Bishopric calling new counselors, executive secretary and clerk for the Coeur d'Alene 1st Ward for the Church of Jesus Christ of Latter-day Saints.
Kirk Steinberg is the First Counselor. Steinberg and his wife, Kara have lived in the area for the past 18 years and they have four children. He is the service supervisor for Terex Utilities.
Second Counselor to Bishop Verkist is Ben Glass. Glass is originally from Post Falls. He and his wife Rachel have four children and have lived in the area for 11 years. Glass is an electrician and is employed by Peterson Electric.
Bishop Verkist served a two-year mission in the Oklahoma Tulsa Mission. He and wife Karen and their five children reside in Carlin Bay where they've lived for the past 13 years. He is self employed and owns Verkist Construction.
The new ward executive secretary is Timothy Davis and the ward clerk is Gene Zeckser.
Recent Headlines
---